Knox, William (1756-1795) to Henry Knox
High-resolution images are available to schools and libraries via subscription to American History, 1493-1943. Check to see if your school or library already has a subscription. Or click here for more information. You may also order a pdf of the image from us here.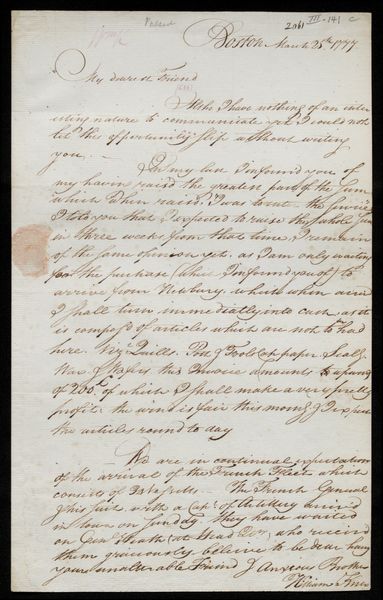 A high-resolution version of this object is available for registered users. LOG IN
Gilder Lehrman Collection #: GLC02437.00558 Author/Creator: Knox, William (1756-1795) Place Written: Boston, Massachusetts Type: Autograph letter signed Date: 25 March 1777 Pagination: 1 p. : address : docket ; 32.1 x 19.8 cm.
Continues the discussion about raising money from his last letter, GLC02437.00555. Still believes that he will soon have raised the necessary funds, and will then be free to join the army. Hopes to receive the quills, wax, etc. that day. A French General has arrived and met with General Heath, and more French ships are expected. The General is most likely Phillipe Charles Jean Baptiste Tronson du Coudray.
Philippe Charles Jean Baptiste Tronson du Coudray was a French officer who signed up to serve with the American army. While in France Benjamin Franklin and Silas Deane tried to recruit talented officers to help fill the ranks of the American army. In exchange for his promise to bring a number of supplies with him to America, they offer du Coudray the command of all American artillery without consulting anyone. When du Coudray arrived a struggle broke out over whether or not he should replace Knox in this role, and whether the government was obligated to honor Deane's promise. Knox and a number of his fellow officers threatened to resign if a foreigner was placed over an American in such an important position. In the end Knox kept his position, and du Coudray was made Du Coudray was appointed inspector general and placed in charge of the works on the Delaware.
[draft]
"…In my last I inform'd you of my having rais'd the greatest part of the sum which when rais'd, I was to enter the service I told you that I expected to raise the whole sum in three weeks from that time, I remain of the same opinion yet. as I am only waiting for the purchase (which I informd you of) to arrive from Newbury, which when arrivd I shall turn immediately into cash, as it is composs'd of articles which are not to be had here. Vizz. Quills, Post & fools Cap paper, Sealg. Wax & Wafers, this Invoice amounts upwards of 200£ of which I shall make a very pretty profit, the wind is fair this morng. & I expect the articles round to day
We are in continual expectation of the arrival of the French Fleet which consists of 34 Vessells - The French General & his [illegible] with a Capt. of Artillery arriv'd in town on Sunday. they have waited on Genl Heath (at Head Qtrs) who receiv'd them graciously …"