Knox, Lucy Flucker (ca. 1756-1824) to Henry Knox
High-resolution images are available to schools and libraries via subscription to American History, 1493-1943. Check to see if your school or library already has a subscription. Or click here for more information. You may also order a pdf of the image from us here.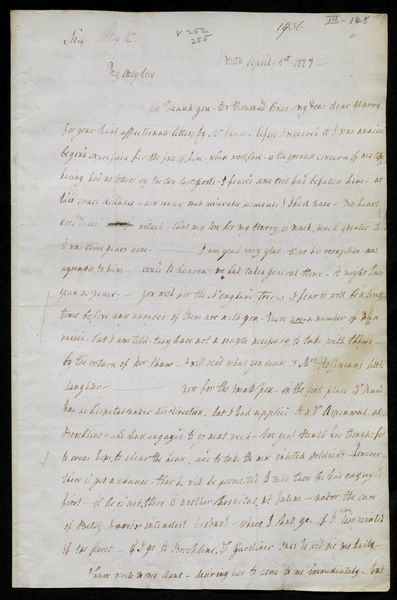 A high-resolution version of this object is available for registered users. LOG IN
Gilder Lehrman Collection #: GLC02437.00562 Author/Creator: Knox, Lucy Flucker (ca. 1756-1824) Place Written: Boston, Massachusetts Type: Autograph letter signed Date: 1 April 1777 Pagination: 2 p. : address : docket ; 32.1 x 20.9 cm.
Summary of Content: Thanks him for his letter, which Samuel Shaw delivered. When she had not heard from him for two posts she began to worry. She loves him more than ever, and will send the goods he requested in his previous letter. Details her plans to be inoculated against smallpox. Had hoped to go to a hospital in Brookline, where Doctor Gardner promised he would see her every day. But this hospital is now perhaps going to be used only to inoculate soldiers. In that case she plans to go to a hospital in Salem. Wishes he had taken care of the business with Mr. Hichborn himself, and discusses other personal business.
Background Information: Joseph Gardner was a surgeon's mate, in the twelfth continental regiment.
Full Transcript: [draft]
No 4
Boston April 1st 1777 -
My only love
Thank you - ten thousand times - my dear dear Harry - for your kind affectionate letter by Mr Shaw. before ...I received it I was anxious beyond expression for the fate o him whose wellfare is the greatest concern of my life having had no letters by the two last posts I feared some evil had befallen him - at this cruel distance how many such miserable moments I shall have - My heart does indeed [struck: witness] witness that my love for my Harry is much much greater than it was three years gone - I am glad very glad that his reception was agreable to him - would to heaven we had taken General Howe - it might have given us peace - you wish for the N england troops - I fear it will be a long time before any number of them are with you - there are a number of men raised - but I am told they have not a single necessary to take with them - by the return of Mr Shaw - I will send you what you desire to Mrs Hoffmans little daughter - Now for the small pox - in the first place Dr Rand has no hospital under his direction - but I had applied to a Dr Aspinwal at Brookline - and had engaged to go next week - but genl Heath has thought [first/best?] to order him to clear the house and to take the new inlisted soldiers - however - there is yet a chance that he will be permitted to take those he had engaged first - if he is not there is another hospital at Salem - under the care of Betsy Davis s intended husband - where I shall go if I [inserted: am] disappointed of the first - if I go to Brookline, Dr Gardiner says he will see me daily -
I have wrote to my Aunt - desiring her to come to me immediately - but [2] have as yet received no answer - I will take the most effectual method to send you the things you desire - as to the affair with Mr Hickborn - I could wish my busy husband had seen to it himself - the paper that you left me with is thought insufficient - therefore beg you would send me one properly executed - I will see Mr Bodowin as soon as may be - so much for your letter - Hannah is in NY I have wrote to her by Mr/s? H[arbek?] - which I dare say you will approve of I have taken care to say nothing but what the world may see - poor girl I fear her brute of a husband - does not make her proper [struck: remittances] remitances - is it not very strange that he does not come out to her - My Harry - I believe there never were two persons more happily united that we - could we oh could we but live together - Give peace in our time oh lord) there is no petition in the whole liturgy that I offer with more energy than that -
For the present farewell - my all in all - May he without whose permission not a sparrow falls take you under his most gracious protection - may he cover your head in the day of battle - preserve your very precious health - and soon, very soon restore you - to the Arms of your
tenderly Affectionate Wife
Lucy Knox -
I meant to have copied this
but Speakman cannot wait -

Lucy sends you a kiss - burn it for I shall be ashamed of it -

[address leaf]
General Knox
With the Army in
New Jersey -
By favor Capt Speakman

[docket]
Mrs. Knox to H. Knox
1777See More
People: Knox, Henry, 1750-1806
Knox, Lucy Flucker, 1756-1824
Shaw, Samuel, 1754-1794
Gardner, Joseph, ?-1788
Hichborn, Benjamin, 1746-1817

Historical Era: American Revolution, 1763-1783
Subjects: SmallpoxDiseasePost OfficeWomen's HistoryLove LettersHealth and MedicalHospitalRevolutionary WarMilitary HistoryContinental ArmyFinance
Sub Era: The War for Independence