Jackson, Henry (1747-1809) to Henry Knox
High-resolution images are available to schools and libraries via subscription to American History, 1493-1943. Check to see if your school or library already has a subscription. Or click here for more information. You may also order a pdf of the image from us here.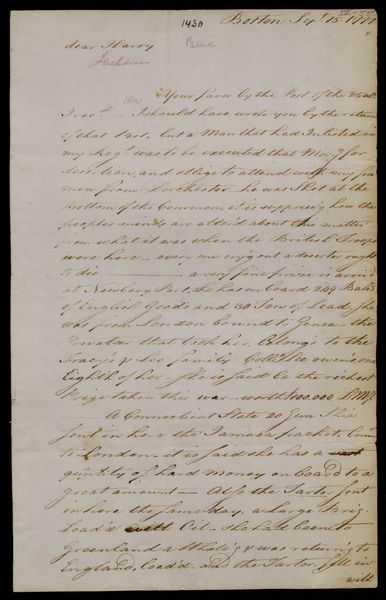 A high-resolution version of this object is available for registered users. LOG IN
Gilder Lehrman Collection #: GLC02437.00649 Author/Creator: Jackson, Henry (1747-1809) Place Written: Boston, Massachusetts Type: Autograph letter Date: 15 September 1777 Pagination: 2 p. ; 32.4 x 20.4 cm.
Would have written to Knox sooner, but was obliged to attend the execution of a man who had deserted from his regiment. Writes, "...he was Shot at the Bottom of the Common, it is supprise'g how the people minds are alter'd about this matter from what it was when the British Troops were here- every one cry'g out a deserter ought to die..." Mentions a British naval prize taken by a privateer and brought to Newburyport, Massachusetts. Describes a matter between the Tartar, an American ship, and a twenty-gun British ship. Expects news from the Northward (northern New York), where American General Horatio Gates has 15,000 troops.
[draft]
Boston Sept. 15. 1777
dear Harry
Your favor by the Post of the 25 ulo. I recd. - I should have wrote you by the return of that Post, but a Man that had Inlisted in my Regt: was to be executed that Morg: for desertion, and oblige to attend with my few men from Dorchester - he was shot at the Bottom of the Common, it is supprise'g how the people minds are alter'd about this matter from what it was when the British Troops were here - every one cry'g out a deserter ought to die - a very fine prize is arriv'd at Newbury Port, she has on board 249 Bale's of English Good's and 30 Ton of Lead. She was from London bound to Genoa - the Privateer that took her, belong's to the Tracy's & Lee family - Collo. Lee owen's one Eighth of her - she is said [to] be the richest Prize taken this war - worth £100,000 [illegible]
A Connecticut State 20 Gun Ship sent in here the Jamaca packet, bound to London - it is said has a quantity of hard money on board to a great amount - Also the Tartar sent in here the same day, a Large Brig. Load'd with Oil - she had been to Greenland a Whale'g & was return'g to England, load'd - and the Tartar, fell in with [2] her, and sent her to this market - we surppose she will pay, half of our out sets of the Tartar, this is better than nothg
The Tartar had an engagement with 20 Gun Ship from New York bound to London - after engag'g [illegible] the British ship shear'd off - the Tartar being much Shatter'd could nto put after her - or he could have taken her - The Tartar lost several men kill'd & wound'd - & was [illegible] twenty times - she sails very well & when the Prize left her - she was go'g up the Baltic - after the Russia ship
We expect every hour to hear some very important new's from the No. ward - it said Genl. Gates has 15,000 men with him including Militia - this Month is big with great events from the Southward & No. ward - I pray god they may be in favor of America may God preserve & bless you - my dear Harry -
your
Friend