Knox, Henry (1750-1806) to Lucy Knox
High-resolution images are available to schools and libraries via subscription to American History, 1493-1943. Check to see if your school or library already has a subscription. Or click here for more information. You may also order a pdf of the image from us here.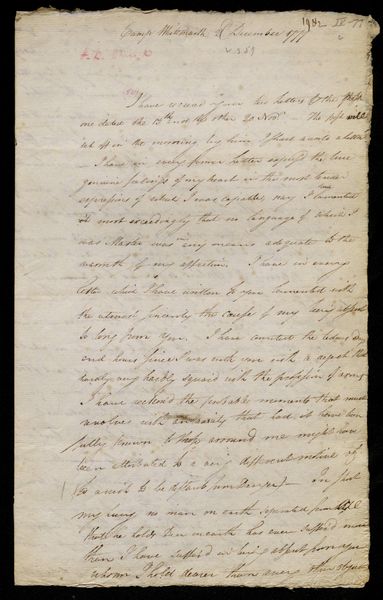 A high-resolution version of this object is available for registered users. LOG IN
Gilder Lehrman Collection #: GLC02437.00670 Author/Creator: Knox, Henry (1750-1806) Place Written: Whitemarsh, Pennsylvania Type: Autograph letter signed Date: 2 December 1777 Pagination: 4 p. ; 33.8 x 20.6 cm.
Writes, "In short my Lucy no man on earth seperated [sic] from All that he holds Dear on earth has ever suffer'd more than I have suffer'd in being absent from you whom I hold dearer than every other object..." Defends his love for her, because "in one moment of inadventure you have written which will long be the source of unhappiness to me." Expects to be able to set out for Congress when the army goes into winter quarters, and intends to be in Boston (Lucy's location) in one month. Notes that "The situation of our army on account of Cloathing is such as to render a Winters Campaign impossible without we have a mind to put an end to the War by starving all the soldiers." Explains the situation of Catharine Littlefield Greene, wife of General Nathanael Greene, who was able to follow her husband during his campaign. Relates that General Greene was only able to see his wife for three days. After his visit, because of several factors preventing her travel, Mrs. Greene stayed at the home of an acquaintance who refused money for her stay. Suggests "...the delicacy of Lucy's mind would be much wounded by being in such a situation..." Nonetheless, hopes she can be present during his next campaign. In a note written in the margin of page four, mentions Harry, possibly General Henry Jackson.
[draft]
Camp Whitemarsh 2d December 1777
I have received your two Letters by the post one dated the 13th and the other 20 Novr. - The post will set off in the morning, by him I shall write a Letter - I have in every former Letter express'd the true genuine feelings of my heart in the most tender expressions of which I was capable, nay I [inserted: have] lamented [struck: it] most exceedingly that no language of which I was Master was [inserted: in] any means adequate to the warmth of my affection. I have in every letter which I have written to you lamented with the utmost sincerity the cause of my being absent so long from You. I have counted the tedious days and hours since I was with you with a [regret] that hardly very hardly squar'd with the profession of arms I have reckon'd the probable movements that must revolve with an anxiety that had it have been fully known to those around me might have been attributed to a very different motive (to a wish to be distant from Danger) - In short my Lucy no man on earth seperated from all that he holds Dear on earth has ever suffer'd more than I have suffer'd in being absent from you whom I hold dearer than every other object [2] I have told you this so often and with all the sincerity [struck: of wh] which God ever infus'd into the human heart - I am unhappy at the Contents of your Letter and am very sorry to say that unhappiness will [illegible] [strikeout] me until heaven shall bless me with your society - to answer the Letters would be improper least it might miscarry. I shall therefore keep the Letters to shew them & have an explanation from you - This truth you may rely upon & I dare call the Supreme omniscient [strikeout] Judge to witness. That there never was a purer and more [illegible] affection than what I profess for you, and that I carry this delicacy of affection so far as to be [struck: but] very indifferent indeed to all the rest of your sex - even to a degree not justifiable by good manners - I wish you my dearest Love to reflect seriously on what I have written and beleive it as seriously as part of the Gospel of Jesus Christ. But however much you have pain'd me I [strikeout] should be extremely unhappy to give you the least pain, but in one moment of inadvertence you have written which will long be the source of unhappiness to me.
[struck: Matters] The situation of our army on account of Cloathing is such as to render a Winters Campaign impossible without we have a mind to put an end to the War by starving all the soldiers.
I therefore expect to be able [3] to set out for Congress when the army goes into Winter Quarters - after doing the business of [inserted: my] department [with] them I shall set out for Boston - and do expect to be there in one month - or nearly so from this day - Yes my Lucy I love, I adore you far infinitely more far than any other mortal but I confess that my chagrin is exceedingly great and that my happiness in seeing you will be Allay'd were I to beleive that you lov'd me less than I have ever flatter'd myself You have done - Gods that she in whom my soul is completely and entirely absorb'd should ever doubt of my affection - the thought almost drives me to desperation -
You have often spoken of Mrs Greene and urg'd it with much warmth that I wish'd to conceal her situation from you - a situation which you almost seem'd to envy - Mrs Greene in a very unpleasant season of the Year with much difficulty, and in an ill state of health [struck: reacth'd] reach'd Mr Lotts about 7 Miles nearer to Boston than Morris Town - Genl Greene saw her there and was with her for three days - at which time the army march'd southward and he has never seen her since nor has he been with her one moment - Mr [Lotts] family is [4] undoubtedly an amiable family but he is too much of a Gentleman to take any Compensation from Genl Greene for Mrs Greene's being there for the servants and horses [inserted: at one hundred & fifty miles distant from [illegible] - I think the delicacy of my Lucy's mind would be much wounded by being in such a situation, I am certain mine would be - and I think my friend is in the same situation of mind - however that may be I am nearly determin'd to have my Lucy in some situation near me if I shall [struck: make] serve another Campaign - her unhappiness is so great that I am determin'd to sacrifice every inferior consideration to remove it even if She like Mrs [Reidsal] should be taken prisoner - this and other arrangements will probably be the Consequence of my being with You. Continue to love me and [illegible] if any part of it should have depreciated (which God in mercy to us both, forbid) endeavor to rekindle the flame of sacred Love and friendship in your bosom - I own I am chagrin'd beyond measure - and therefore hope my friend Harry will have no [illegible] in his head about our having taken [illegible] and open this Letter - God bless You and the dear pledge of our Love - I am your truly affectionate and faithful H Knox -
[written vertically on left hand side of page 4]
I have not written to Harry supposing him to have set out for Camp, as he wrote to Col Cobb and Lt Col [illegible] he should - the detatchment for the Boston regts are the best cloathed men in Camp
[docket]
H.K. to Mrs K