Knox, Henry (1750-1806) to William Knox
High-resolution images are available to schools and libraries via subscription to American History, 1493-1943. Check to see if your school or library already has a subscription. Or click here for more information. You may also order a pdf of the image from us here.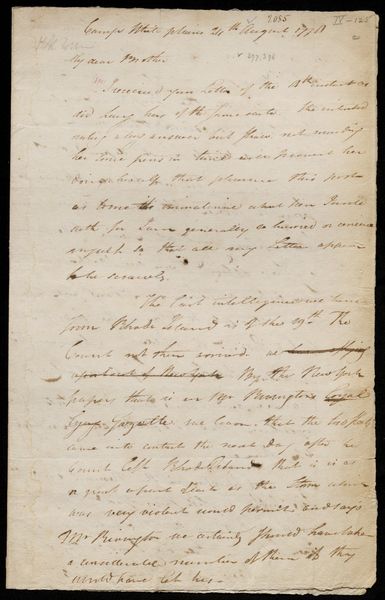 A high-resolution version of this object is available for registered users. LOG IN
Gilder Lehrman Collection #: GLC02437.00720 Author/Creator: Knox, Henry (1750-1806) Place Written: White Plains, New York Type: Autograph letter signed Date: 24 August 1778 Pagination: 3 p. : address : docket ; 33.5 x 21.1 cm.
Summary of Content: Acknowledges receipt of a letter William wrote 14 August 1778. Notes that his wife Lucy would also reply to William, but Shaw has not provided her with pens (possibly referring to his aide-de-camp, Samuel Shaw). Refers to a naval battle near Newport, Rhode Island between the fleets of the Comte D'Estaing and British General William Howe. Mentions the violent storm that thwarted the battle, noting that the success of American General John Sullivan, on land in Rhode Island, depends largely on D'Estaing's success (there was no decisive winner in the naval battle, and after the storm D'Estaing sailed for Boston). Reports that British Admiral Augustus Keppel has taken two French frigates. Discusses other matters pertaining to the navy. In closing, remarks, "As I wrote you before our operations will depend in a good measure on the success or non success of the Rhode Island affair ... "
Full Transcript: [draft]
Camp White Plains 24th August 1778
My dear Brother
I received your Letter of the 14th instant as did Lucy hers of the same date. The intended writing a long ...answer but shall not mending her some pens in time will prevent her doing herself that pleasure this post as to me the its immaterial what pen I write with for I am generally so hurried or [illegible] myself so that all my Letters appear to be scrawls.
The last intelligence we have from Rhode Island is of the 19th. The Count not then arriv'd. By the New York papers that is in Mr Rivingtons loyal lying Gazette we learn that the two fleets came into contact the next day after the Count left Rhode Island, that is is as a great apart of each as the Storm which was very violent would permit and say's Mr Rivington we certainly should have taken a considerable number of them if they would have let us -
[2] however by every account the Storm was the most violent that has happen'd at this time of the Year for many years past. I wish most severely the Compte had return'd to his [illegible] conceiving that much of Genl Sullivans success must depend on it.
You will be able to know as sooner or sooner of the events which have taken place on that Island than we shall - But from certain appearances in New York they will attempt to relieve the Garrison on Rhode Island if possible. Admiral Kepple has taken two French frigates on the Coast of France and carried them into Portsmouth by which War is effectually kindled up there.
Dawson in the Renown and the Isis both English ships of Lord Howes Squadron are much puff'd in the New York papers for their behaviour, the one having as they say engag'd the Languedoc and the other the [Lele.]
[3] As I wrote you before our operations will depend in a great measure on the success or non success of the Rhode Island affair. judge then of our anxiety for its success.
Adieu my dear Brother
HKnoxSee More
People: Knox, Henry, 1750-1806
Knox, William, 1756-1795
Keppel, Augustus, Viscount, 1725-1786
Howe, William, 1729-1814
Knox, Lucy Flucker, 1756-1824
Shaw, Samuel, 1754-1794
Estaing, Charles Henri, comte d', 1729-1794
Sullivan, John, 1740-1795

Historical Era: American Revolution, 1763-1783
Subjects: NavyFranceBattleRevolutionary WarRevolutionary War GeneralMilitary HistoryMilitary SuppliesChildren and FamilyBattleGlobal History and US Foreign PolicyGlobal History and US Foreign PolicyContinental Army
Sub Era: The War for Independence