Knox, Henry (1750-1806) to William Knox
High-resolution images are available to schools and libraries via subscription to American History, 1493-1943. Check to see if your school or library already has a subscription. Or click here for more information. You may also order a pdf of the image from us here.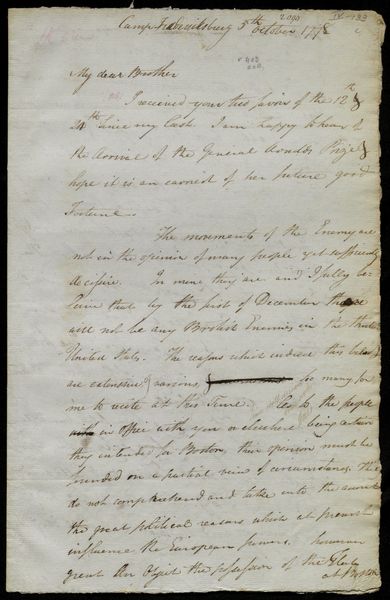 A high-resolution version of this object is available for registered users. LOG IN
Gilder Lehrman Collection #: GLC02437.00728 Author/Creator: Knox, Henry (1750-1806) Place Written: New York Type: Autograph letter signed Date: 5 October 1778 Pagination: 4 p. : address : docket ; 32.6 x 20.7 cm.
Summary of Content: Written at Fredericksburgh. Comments on the arrival of (the privateer) General Arnold's prize. Thinks the British will leave the United States to secure their possessions elsewhere, noting that an attempt to capture the French fleet at Boston rests on too many uncertainties for the British. Recently received news that the French captured the island of Dominica, which Knox refers to as "Dominico." Also reports that France sent 4,000 men to take Jamaica. Comments that the British have taken cattle and forage in New Jersey, and surprised [Colonel George] Baylor's regiment, wounding Baylor (this battle is referred to as the Baylor Massacre, 28 September 1778). Writes, "But should the Enemy contrary to my reasonings, conjectures & conclusions be so insane as to push to Boston, you may rely I shall give you the earliest notice- But rest easy on this head." Discusses a business matter handled by William related to Henry's mortgage and estate. Also mentions an unspecified petition. Contains several notes written in a different hand throughout text. Minor text loss from seal. Mentions that Lucy and "her baby," possibly their daughter Lucy, are both well. On page four, Knox reports that General Benjamin Lincoln will soon take command in Charleston South Carolina.
Full Transcript: [draft]
Camp Fredericksburg, 5th October 1778
My dear Brother
I received your two favors of the 12th & 24th since my last. I am happy to hear of the Arrival of the ...General Arnolds Prize & hope it is an [earnest] of her future good fortune.
The movements of the Enemy are not in the opinion of many people yet sufficiently decisive. In mine they are and I fully believe that by the first of December there will not be any British Enemies in the thirteen United States. The reasons which induce me this belief are extensive & various, too many for me to write at this Time. As to the people in office with you or elsewhere being certain they intended for Boston, their opinion must be founded on a partial view of circumstances. They do not comprehend and take into the account the great political reasons which at present influence the European powers. However great an object the possession of the Alert at [2] Boston may be yet, the acquisition of this object would be attended with many difficulties, embarrassments and uncertainties. It is by no means clear to me that they are able, with their present force to accomplish the possession or destruction of the French fleet at Boston But they have other objects to attend to they have to defend their own possessions
- Intelligence is arriv'd at Baltimore by a vessel in thirteen days from Martinico that The French on the 7th of Septr took possession of the Island of Dominico and had sent four thousand men to take Jamaica. This first part that is the taking of Dominico is certain and the other probable -
The Enemy have lately been collecting Cattle and Forage in Jersey - [they] supriz'd Baylors regiment of Horse and kill'd and took about sixty. - The Major died of his wounds and the Colonel is still dangerously ill of those he received
But should the Enemy [3] contrary to my reasonings, conjectures, & countenance, be so insane as to push to Boston, you may rely I shall give you the earliest notice - But rest easy on this head.
I hope you will pursue the matter of the petition with all the address you are master of - It is a matter of great concern to us - I am exceedingly sorry for the information about the house, I wish you to consult some gentlemen of the lane on the subject viz [text loss] I should recover part of the Estate, and get [text loss] to me such part of that house and hand as well overpay the mortgage, whether in tender of the money for the mortgage, and interests, they must not be obliged to receive it - and also insure of the proper persons whether the trustee for the Colledge went properly through all the [forms] of Law requir'd in such a case -
I am my Dear Brother
Yours affectionately
H Knox
Lucy & her baby
Are well & give love

[address leaf]
Mr William Knox
Boston

[written at bottom of address leaf]
Major General Lincoln is by the Congress ordered to take the Command in Charlestown South Carolina and he will take office in a day or two -

[docket]
Genl Knox 5th Oct
1778 Fredericksburg
Important
Information
To Wm Knox.See More
People: Knox, Henry, 1750-1806
Knox, William, 1756-1795
Arnold, Benedict, 1741-1801
Baylor, George, 1752-1784
Knox, Lucy Flucker, 1756-1824
Knox, Lucy Flucker, 1776-1854
Lincoln, Benjamin, 1733-1810

Historical Era: American Revolution, 1763-1783
Subjects: NavyFranceTreasonRevolutionary WarRevolutionary War GeneralMilitary HistoryPrivateeringMassacreGlobal History and US Foreign PolicyGlobal History and US Foreign PolicyCaribbeanWartime Pillaging and DestructionInjury or WoundBattleFinancePetitionChildren and FamilyContinental Army
Sub Era: The War for Independence