Adams, John (fl. 1781) Return of Ordnance Stores in the fort at Dorchester Heights belonging to the Continent
High-resolution images are available to schools and libraries via subscription to American History, 1493-1943. Check to see if your school or library already has a subscription. Or click here for more information. You may also order a pdf of the image from us here.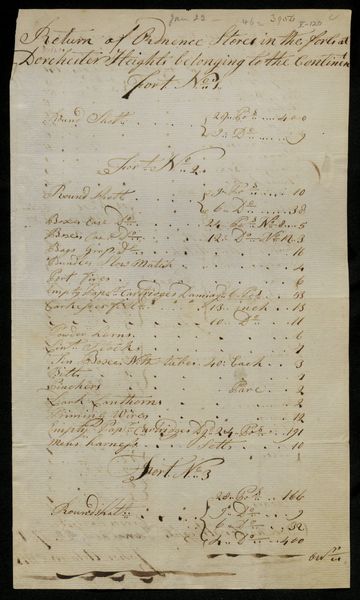 A high-resolution version of this object is available for registered users. LOG IN
Gilder Lehrman Collection #: GLC02437.00875 Author/Creator: Adams, John (fl. 1781) Place Written: Boston, Massachusetts Type: Manuscript document signed Date: 22 January 1781 Pagination: 2 p. ; 32.2 x 18.6 cm.
Lists military supplies and stores by fort and type. Written in Dorchester Heights, Boston, Massachusetts.
Return of Ordnence Stores in the forts at Dorchester Heights belonging to the Continent
Fort No 1
Round Shott 28 Pos 400
9 Do 9
Fort No 2
Round Shott 9 Pos 10
6 Do 38
Boxes Case Do 24 Pos No 8 5
Boxes Case Do 12 Do No [12] 3
Bags Grap. Do 16
Bundles Slow Match 4
Port fires 6
Empty Paper Cartridges Damiagd 6 Pos 53
Cartresses filld 13 inch 13
10 Do 11
Powder horns 6
Lint Stocks 7
Tin Boxes With tubes 40: Each 3
Bitts 7
Pinchers Pare 2
Dark Lanthorns 2
Priming Wires 12
Empty Papr Cartridges Dgd 24 Pos 191
Mens harness Setts 10
Fort No 3
Round Shott 28 Pos 166
9 Do 9
6 Do 32
4 Do 400 ovr
[2] Brass Cannon on Traveling Carriages 4 Pos 3
Tumbrel 1
Rounds Grap Shott for Traveling Do 5
Rounds Case Do flannel Cartridges 141
Empty Paper Cartridges Damiagd 9 Pos 3
3 Do 50
Boxes With Tubes 5
Tubes 280
Port fires 18
Lint Stocks 6
Powder hornes 5
Horns 1
Drudgen Box 1
Haversacks 4
Priming Wires 8
Case Shott 19 [inserted: Pos] No 19 2 Boxes
9 Pos No 19 2 [Do]
Cartresses filld 13 inch 25
Bags Grap Shott 66
Bundles Slow Match 2
Barrells Powdr 3
Paper 28 Pos 99
9 Do 83
Cartridges filld 4 Do 27
3 Do 7
Flannel 3 Do 66
28 PoS 7
12 Do 1
Rammers & Spuneges [spunges] 9 Do 2
4 Do 3
6 Do 4
3 Do 4
Rammers 28 Pos 6
Worms 28 Do 6
Do 3 Do 1
28 Pos 7
Ladles 12 Do 1
9 Do 2
6 Do 3
3 Do 1
Spears 106
Errors Excepted
Dorchester Heights January 22 1781
John Adams QMS