Knox, Henry (1750-1806) to Samuel Hodgdon
High-resolution images are available to schools and libraries via subscription to American History, 1493-1943. Check to see if your school or library already has a subscription. Or click here for more information. You may also order a pdf of the image from us here.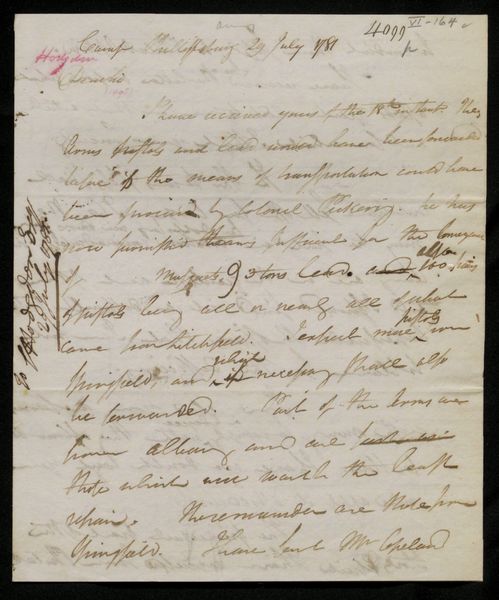 A high-resolution version of this object is available for registered users. LOG IN
Gilder Lehrman Collection #: GLC02437.01100 Author/Creator: Knox, Henry (1750-1806) Place Written: Sleepy Hollow, New York Type: Autograph letter signed Date: 29 July 1781 Pagination: 4 p. : docket ; 23.1 x 19.1 cm.
Summary of Content: Discusses arms, stores, and other military matters with Hodgdon, Commissary General of Military Stores. Compliments Hodgdon on his new appointment. Written at Phillipsburg (present-day Sleepy Hollow, New York).
Full Transcript: [draft]
Camp Phillipsburg 29 July 1781
Dear Sir
I have received yours of the 18th instant. The, Arms pistols and lead would have been forwarded before if the means of transportation could ...have been procur'd by Colonel Pickering. He has now promised the arms sufficient for the conveyance of Musquests & 3 tons lead. [struck: and] [inserted: also] 100 pairs of pistols being all or nearly all of what came from Litchfield. I expect more [inserted: pistols] from Springfield, and [inserted: which] if necessary shall also be forwarded. Part of the arms are from Albany and are [struck: such as] those which will want the least repair. The remainder are [those] from Springfield. I have sent Mr Copeland [2] to conduct them safely to Philadelphia.
I have received the letter paper which affords great relief to me in that article and for which I thank you sincerely.
If the Drums & Fifes shall not have left off for camp I beg they may be put in motion immediately [inserted: In Dobbs ferry via Morris Town]. The Army are in the greatest want of them and I should find it a difficult task to persuade the officers that I am not to blame for the defficiency.
I am glad you are furnished with [money] to comply [inserted: in a degree] with the [inserted and struck: estimi] demand for stores. I have no doubt that you will apply it efficiently.
The principal part of the stores which I have requested from Philadelphia [3] are for the intended siege of New York and [struck: which when if if forwarded now] for which operation we are not yet quite ready. I have requested of the board of War only such stores [inserted: at present] as are necessary for the laboratory, and those to be [inserted: sent] to New Windsor to the charge of Lt Price [illegible] of the laboratory there. Since stores have [struck: have] [inserted: been brought] here which occasions [strikeout] an embarrassment as we are obligd afterwards to send them to New Windsor therefore I wish [any] thing which shall be sent of stores for Laboratory [preparatory], [inserted: particularly the Tennant saws] to be sent near [struck: Chester House] [illegible] [Court] [House] & [Chester] to new Windsor - We want much the tennant saws
[4] The heavy stores will not be forwarded until matters are more explained than at present.
[struck paragraph: The light stores, needed for the Laboratory particularly the tennant saws I wish to be forwarded to New Windsor with [all] speed.
The fuzes in general I wish to be empty.
I beg you to accept [strikeout] my compliments on your appointment & to beleive that I have the same opinion that you will [inserted: now] exert yourself to your own reputation & the good of the service, as when you acted in a less extensive sphere in the field Saml Hodgdon Esq.r I am dear Sir your Hble
Servt HKnox
[written vertically along left margin of page 4]
The standard furnishd will answer the purpose [intended].

[docket on margin of page 1]
To SHodgdon Esq
29 July 1781.See More
People: Knox, Henry, 1750-1806
Hodgdon, Samuel, 1745-1824

Historical Era: American Revolution, 1763-1783
Subjects: Revolutionary WarRevolutionary War GeneralMilitary HistoryContinental ArmyArtilleryMilitary SuppliesWeaponry
Sub Era: The War for Independence