Moodie, Andrew (d. 1787) to Henry Knox
High-resolution images are available to schools and libraries via subscription to American History, 1493-1943. Check to see if your school or library already has a subscription. Or click here for more information. You may also order a pdf of the image from us here.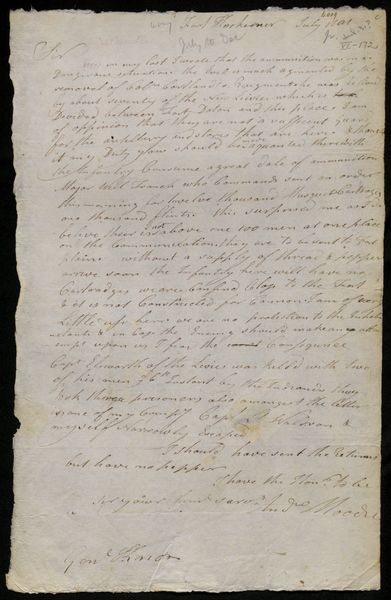 A high-resolution version of this object is available for registered users. LOG IN
Gilder Lehrman Collection #: GLC02437.01107 Author/Creator: Moodie, Andrew (d. 1787) Place Written: Herkimer, New York Type: Autograph letter signed Date: July 1781 Pagination: 2 p. : address : docket ; 33 x 20.8 cm.
Written at Fort Herkimer. Expresses concern that the departure of Colonel [Philip van] Cortlandt's regiment left the Fort's artillery and stores in a vulnerable state: "...we are no protection to the Inhabitants & in Case the Enemy should make an attempt upon us I fear the Consequence." Reports that Captain Elsworth and two other men were recently killed "by the Indiands [sic] they took three prisoners also amongst the latter is one of my Compy..." "Public service" noted on address leaf.
[draft]
Fort Herkimer July 1781
Sir
in my last I wrote that the ammunition was in a Dangerous situation. The evil is much agmented by the removel of Coln Cortlandts Regiment he was relived by about seventy of the new Leivies which is [struck: to be] Divided between Fort Daton and this place. I am of oppinion that they are not a sufficent guard for the artillery and stores that are here. & though it my Duty you should be [inserted: made] acquanted there with the Infantry Consume a great dale of ammunition. Major Will Franch who Commands sent an order this morning for twelve thousand Musquit Cartrages one thousand flints. This surprised me as I do belive their is [inserted: not] above one 100 men at one place on the Communication. they are to be sent to Fort plain. without a supply of thread & pepper arrive soon the Infantry here will have no Cartradges we are Confind Close to the Fort & it is not Constructed for Cannon. I am of very little use here we are no protection to the Inhabitants & in case the Enemy should make an [strikeout] attempt upon us I fear the [strikeout] Consequence Capt Elsworth of the Levies was killd with two of his men the 6th Instant by the Indiands they took three prisoners also amongest the latter is one of my Compy Capt Lt Waldron & myself Narrowly Escaped.
I should have sent the Returns but have no pepper
I have the Hon.r to be sir your huml servt Andw Moodie
Genl Knox
[address]
public service
Brig.r Gen.l Knox
Head Quarters
[docket]
From Capt Moodie
July 1781