Greene, Nathanael (1742-1786) to Henry Knox
High-resolution images are available to schools and libraries via subscription to American History, 1493-1943. Check to see if your school or library already has a subscription. Or click here for more information. You may also order a pdf of the image from us here.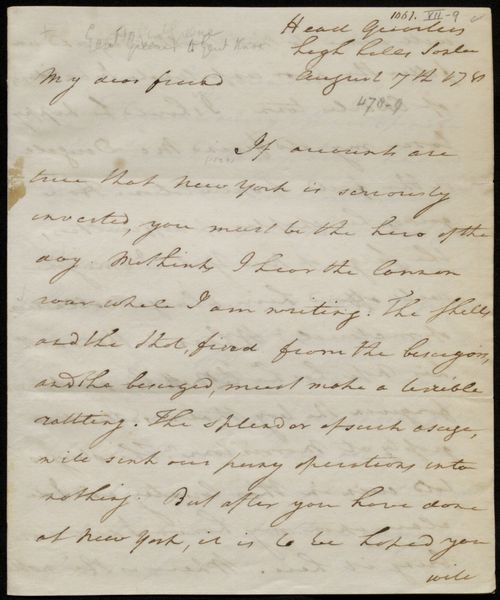 A high-resolution version of this object is available for registered users. LOG IN
Gilder Lehrman Collection #: GLC02437.01124 Author/Creator: Greene, Nathanael (1742-1786) Place Written: Headquarters, High Hills Santee, South Carolina Type: Autograph letter signed Date: 7 August 1781 Pagination: 4 p. : docket ; 22.1 x 18.2 cm.
Summary of Content: Written by Major General Greene as commander of the Southern Department to Brigadier General Knox. Says if reports of New York's investment are true then "you must be the hero of the day. Me thinks I hear the cannon roar while I am writing..." Hopes Knox will comes to the South after finishing the job around New York. Makes reference to a story involving General William Howe at the Battle of Morristown, which took place in 1777. Says "Where is How[e] with his nose, has he left off his part, or forgiven the levy that insulted it so grossly at Morristown?" Makes reference to General Lee reviewing the ground at Long Island. Comments on an unsubstantiated report of a duel between Howe and Lee. "Honest fellows what have they to quarrel about?" Is frustrated about knowing so little about events in the North. Jokes that he is sending so many aides out to get news, he fears that people "will think the Southern Army is broken up." Asks about Lucy.
Full Transcript: [Draft]
Head Quarters
high hills Santee
August 7th 1781
My dear friend
If accounts are true that New York is seriously invested, you must be the hero of the day. Methinks ...I hear the Cannon roar while I am writing. The shells and the shot, fired from the besiegers, and the besieged, must make a terrible rattling. The splendor of such a siege, will sink our puny operations into nothing. But after you have done at New York, it is to be hoped you [2] will come to the Southward; and unfetter the poor unfortunate Inhabitants of Charles town. I should be happy to see my old friend McDougall, in the field of speculation. How goes on his chapter of difficulties, the siege of New York I image will afford him a large collection of materials? Where is How[e] with his nose, has he left off his part, or forgiven the levy that insulted it so grossly at Morris town? The story is told even in this Country, and I declare upon my honor I did not bring it here. Where is the noble [3] Earl, I hope Lee's had an opportunity to review the ground on Long Island and I presume every officers of note in the French Army have heard in detail the particulars - We have had a report here that Genl. Howe & he had, had a duel, but I did not believe it. Honest fellows what have they to quarrel about?
I am sending Aid de Camp after Aid de Camp to get news from the Northward. I am not a little apprehensive the people on the road will think the Southern Army is broken up -
[4] I hear so much, and know so little, that I am determined to be better informed. Morris will inform you of his errand, which I suppose will be full explained to you, long before he can reach Head quarters. Burnet went principally for the recovery of his health.
Where has Mrs Knox taken post during your operations? I beg you will present her my most affectionate regards; and I hope you will not get in the way of a four and twenty pounder; but will return to her with whole bones.
Yours aff
NGreene
My compliments to honest Shaw
[docket]
From Genl Green 7 Augt
1781 -See More
People: Greene, Nathanael, 1742-1786
Knox, Henry, 1750-1806

Historical Era: American Revolution, 1763-1783
Subjects: Revolutionary WarRevolutionary War GeneralMilitary LawContinental ArmyArtilleryBattleGlobal History and US Foreign PolicyGlobal History and US Foreign PolicyDuelHumor and Satire
Sub Era: The War for Independence