Knox, Henry (1750-1806) to Mrs. Howe
High-resolution images are available to schools and libraries via subscription to American History, 1493-1943. Check to see if your school or library already has a subscription. Or click here for more information. You may also order a pdf of the image from us here.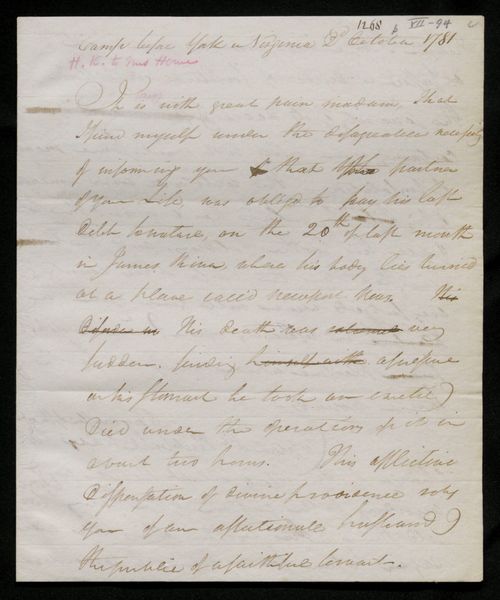 A high-resolution version of this object is available for registered users. LOG IN
Gilder Lehrman Collection #: GLC02437.01206 Author/Creator: Knox, Henry (1750-1806) Place Written: Yorktown, Virginia Type: Autograph letter signed Date: 2 October 1781 Pagination: 3 p. + docket
Informs a bereaved wife of her husband's death on the James River on 20 September 1781 from a stomach ailment. Discusses the circumstances of his death and burial, offers condolence, and mentions who will gather and transport his belongings. The deceased officer was Captain Lt. Baxter Howe (1748-1781) of Lamb's Artillery Regiment. The Continental Army was then engaged in the siege of Yorktown.
[draft]
Camp before York in Virginia 2d October 1781
It is with great pain madam, that I find myself under the disagreeable necessity of informing you [struck: of] that [the] partner of your Life, was obliged to pay his last debt to nature, on the 20th of last month in James River, where his body lies buried at a place call'd Newport News. [Struck: His disease wa] His death was [struck: extreme] very sudden. [Finding] [struck: himself with] a pressure on his stomach he took an emetic & died under the operations of it in about two hours. This afflictive dispensation of divine providence robs you of an affectionate husband & the public of a faithful servant. [2] Heaven I hope will furnish you with a sufficient degree of fortitude to sustain the severity of its decree & [strikeout] certainly you will not want some means of consolation - the rectitude and amiableness of his [struck: of it] conduct, by which he acquired the love of all his brother soldiers, and the [strikeout] lively zeal in the cause of his country are subjects which will give you a [struck: pleasure] [inserted: satisfaction] in reflecting upon, & [inserted: a] melancholy [struck: from] pleasure which may be soothing to your wounds -
Captain Lt [Hubbill] [inserted: Paymaster of Regt.] holds to the charge of the effects of Capt Howe, and according to the custom of the Army to [struck: was] [inserted: to present loss] sold them to his brother officers who were eager to have some tokens of remembrance [3] he will transmit to you as soon as possible an account of them, with the proceeds & [inserted: as [certificate]] the pay which is still due to him from the public
I am madam with every sentiment of sympathy your
Humble Servt
HKnox
Mrs Howe