Shaw, Samuel (1754-1794) to Henry Knox
High-resolution images are available to schools and libraries via subscription to American History, 1493-1943. Check to see if your school or library already has a subscription. Or click here for more information. You may also order a pdf of the image from us here.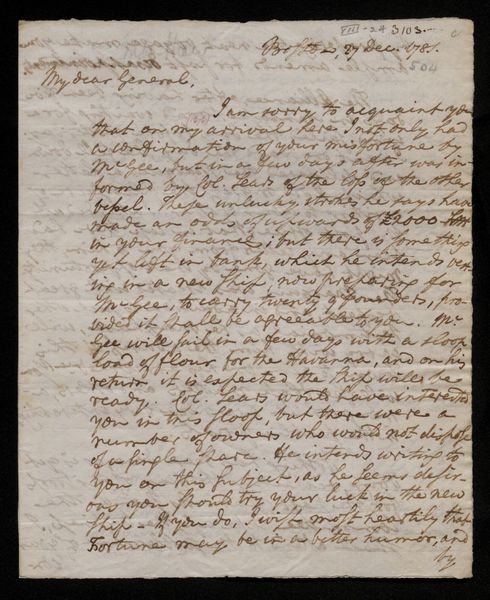 A high-resolution version of this object is available for registered users. LOG IN
Gilder Lehrman Collection #: GLC02437.01311 Author/Creator: Shaw, Samuel (1754-1794) Place Written: Boston, Massachusetts Type: Autograph letter signed Date: 27 December 1781 Pagination: 4 p. : docket ; 24.1 x 19.5 cm.
Relates that he has confirmed the loss of ships Knox invested in by speaking both to McGee and Col. Sears (see GLC02437.01306). Comments that Col. Sears would like him to invest in another ship McGee will be sailing, upon returning from transporting flour to Havana; adds, "If you do, I wish most heartily that Fortune may be in a better humor, and by prospering the next voyage, make you ample amends for last disappointments." Declares that he wrote a letter to Knox's brother and gave it to the Marquis Lafayette who was waiting to set sail from Boston. Writes, "Nothing has been done, or is yet doing, respecting the pay of our troops for the last year." Promises to "attend to the settlement of your concerns with" the Committee, as soon as they take up the issue. Discusses various problems supplying soldiers and horses with provisions. Sends regards to Mrs. Knox, hopes she is in good health, and hopes they "are both rejoicing in another tender pledge of your mutual affection," the birth of their new baby. Also wishes them an enjoyable season in Philadelphia.
[Excerpt:]
The Alliance after having been five days in Nantasket Road waiting for a wind sailed the day before yesterday... The Marquis was treated with great respect, and in addition to such other testimonials as he may have , will carry with him the address of this town [Boston] to him on his arrival....