Knox, William (1756-1795) to Henry Knox
High-resolution images are available to schools and libraries via subscription to American History, 1493-1943. Check to see if your school or library already has a subscription. Or click here for more information. You may also order a pdf of the image from us here.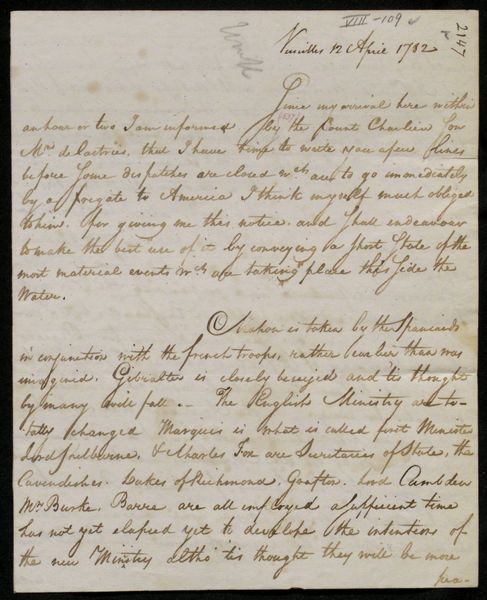 A high-resolution version of this object is available for registered users. LOG IN
Gilder Lehrman Collection #: GLC02437.01386 Author/Creator: Knox, William (1756-1795) Place Written: Versailles, France Type: Autograph letter signed Date: 12 April 1782 Pagination: 4 p. : docket ; 19.8 x 15.9 cm.
Summary of Content: Written by William, Major General Knox's brother, to Henry Knox. Includes a postscript written and signed by Lafayette. References the taking of Mahon, an island off the Spanish coast in the Mediterranean, by the Spanish. Says Gibraltar is "closely beseiged and 'tis thought by many will fall." Mentions changes in the "English Ministry" -- Marquis of Rockingham is made First Minister and Lord Shelburne and Charles Fox are Secretaries of State. Says the Cavendishes, Duke of Richmond, Grafton, Lord Cambden, Burke, and Barre are all employed as well. Says "a sufficient time has not yet elapsed yet to develope the intentions of the new Ministry altho' 'tis thought they will be more peacibly inclined than those who have gone out." Says Admiral Barrington has been sent out with 12 ships of the line, but the destination is unknown. Says John Adams is worried about the new ministry's overtures to the Dutch, which he fears will derail his loan dealings. Says "No overtures have made their appearance for a general peace, much is said of granting American independence and continuing the War with France by the out-door people in England, but I rather expect to hear of some general terms for Peace Sooner than any of a partial nature." Says he will stay in Paris a few weeks in order to collect news. References a letter from Henry in which he gave news of a birth of a son. Says General du Portail or Lafayette (or both) will soon sail to America and wants to send epaulets and lace with them. Lafayette's note on page 4 introduces Louis de Segur to Knox.
Full Transcript: [draft]
Versailles 12 April 1782
Since my arrival here within an hour or two I am informed by the Count [Charlieu son Mrs. de lastries], that I have time to write you ...a few lines before some dispatches are closed wch. are to go immediately by a frigate to America I think myself much obliged to him for giving me this notice, and shall endeavor to make the best use of it by conveying a short state of the most material events wch. are taking place this side the Water.
Mahon is taken by the Spaniards in conjunction with the french troops, rather earlier than was imagined. Gibraltar is closely beseiged and 'tis thought by many will fall. The English Ministry are totally changed Marquis is what is called first Minister Lord Shelburne, & Charles Fox are Secretaries of State, the Cavendishes, Dukes of Richmond, Grafton, Lord Cambden Mr. Burke, Barre are all employed a sufficient time has not yet elapsed yet to develope the intentions of the new Min[inserted: i]stry altho' 'tis thought they will be more pea- [2] peacibly inclined than those who have gone out, they only two movements they have made since coming into office is the sending out Admiral Barrington with 12 ships of the line, their destination is unknown, and the making overtures to the Dutch just at a time when matters [struck: with] [inserted: were] in such a hair with respect to America as Mr. Adams wished which he thinks will however have no other effect than the retarding his wishes for he few weeks when he thinks he shall succeed. No overtures have made their appearance for a general peace, much is said of granting America independence and continuing the War with France by the out-door people in England, but I rather expect to hear of some general terms for Peace sooner than any of a partial nature, I shall not be surprised to hear the British Ports in America are evacuated for carrying on the American war, whether independence is declared or not seems to be an Idea much [recriminated] by the new Ministers, and 'tis not thought many some that the sailing of Admiral Barrington was to favor this design, every hour accounts are expected relative to the objects of persuit the present Ministry will [3] have, certainly there is a great revolution in the appearance of political matters, and as I can be no where more advantageously situated than at Paris for the receiving the earliest intelligence I propose staying a few weeks longer in which time in which time [sic] decisive knowledge may probably be gained relative to a general peace this year, I have made a number of Visits to Seaport and trading Towns for Six or eight Weeks past and have but just returned to Paris, the air of which agrees very well with me, but however would not influence my stay in it longer than I could find advantages deriving from it. I have had the pleasure to receive your Letter by Colo Gimat, which gave me the very satisfactory tidings of the birth of a Nephew for me at which event I congratulate you, and my dear Sister. Genl [Du] Portail or the Mis de la fayette will sail soon for America and perhaps both, by whom I propose sending you a pair of epaulets & Mrs. Knox some Brussells Lace agreable to her wishes. The Alliance sailed from France without (strange as it may appear) giving Mis La Fayette or Doctr. Franklin an [opportunities] of [4] writing consequently I lost that opportunity. I hope to return early in the fall but however shall embrace every opportunity in the interim of writing you the Dispatches are closing I must finish, my tender love to my Sister, Lucy & Harry
Adieu my dearest Friend
& believe me your ever affectionate
WKnox.

[in Lafayette's hand]
Bonjour, My dear friend, I Recommend Louis de Segur to you, I Refer you for intelligences to the Journal, and I need [not] telling you that I am for Ever your affectionate friend
Lafayette
My Respects [Wait] on Mrs Knox my Compliments to Lucy - I [Kiss] My [Son].

[in William Knox's hand]
General Knox.

[docket]
From Mr William Knox Versailles
12 April 1782See More
People: Knox, Henry, 1750-1806
Knox, William, 1756-1795
Adams, John, 1735-1826

Historical Era: American Revolution, 1763-1783
Subjects: NavyRevolutionary WarRevolutionary War GeneralMilitary HistoryGlobal History and US Foreign PolicyGlobal History and US Foreign PolicyGovernment and CivicsTreatyDiplomacyPresidentEconomicsFinanceFreedom and IndependenceFranceLand TransactionMilitary UniformsClothing and AccessoriesTextileTravelLetter of Introduction or Recommendation
Sub Era: The War for Independence