Lamb, John (1735-1800) to Henry Knox
High-resolution images are available to schools and libraries via subscription to American History, 1493-1943. Check to see if your school or library already has a subscription. Or click here for more information. You may also order a pdf of the image from us here.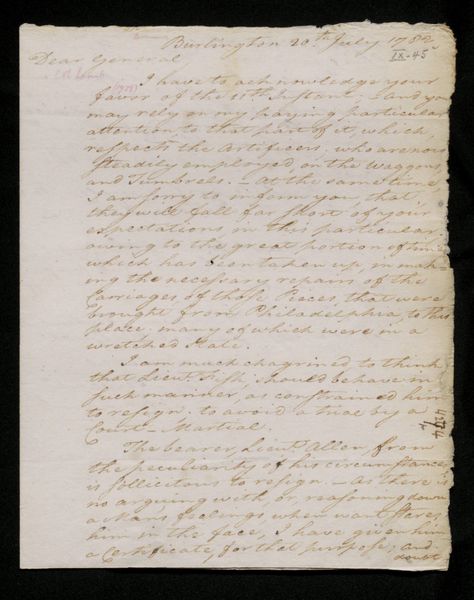 A high-resolution version of this object is available for registered users. LOG IN
Gilder Lehrman Collection #: GLC02437.01495 Author/Creator: Lamb, John (1735-1800) Place Written: Burlington, New Jersey Type: Autograph letter signed Date: 20 July 1782 Pagination: 2 p. : address : docket ; 21.4 x 16.6 cm.
Summary of Content: Writes that has noted Knox's previous letter, which indicates that artificers are working hard on wagons and tumbrils. However, "At the same time, I am sorry to inform you, that, they will fall far short of your expectations, in this particular owing to the great portion of time which has been taken up, in making the necessary repairs of the carriages, of those Pieces, that were brought from Philadelphia, to this place, many of which were in a wretched state." Writes that he is "chagrined" to find that a Lieutenant Fisk has resigned to avoid a Court Martial. Adds that the bearer of the letter, Lieutenant Allen, wants to resign and Lamb has permitted it, because "there is no arguing with, or reasoning down a man's feelings, when want stares him in the face." Lastly, is happy that Holland has recognized America's independence, and that Captain Barney from the Havanna has arrived with "a large sum of money for the public." Sends his compliments to Mrs. Knox and Samuel Shaw, and adds that the men in the Corps present their compliments to Knox. "On public service" written on address leaf.
People: Knox, Henry, 1750-1806
Lamb, John, 1735-1800
Knox, Lucy Flucker, 1756-1824
Shaw, Samuel, 1754-1794
Washington, George, 1732-1799

Historical Era: American Revolution, 1763-1783
Subjects: Revolutionary WarRevolutionary War GeneralMilitary HistoryContinental ArmyMilitary SuppliesTransportationArtilleryMilitary LawAlcoholSoldier's PayFinancePovertyEconomicsMaritimeDiplomacyGlobal History and US Foreign PolicyGlobal History and US Foreign PolicyFreedom and Independence
Sub Era: The War for Independence