Lincoln, Benjamin (1733-1810) to Henry Knox
High-resolution images are available to schools and libraries via subscription to American History, 1493-1943. Check to see if your school or library already has a subscription. Or click here for more information. You may also order a pdf of the image from us here.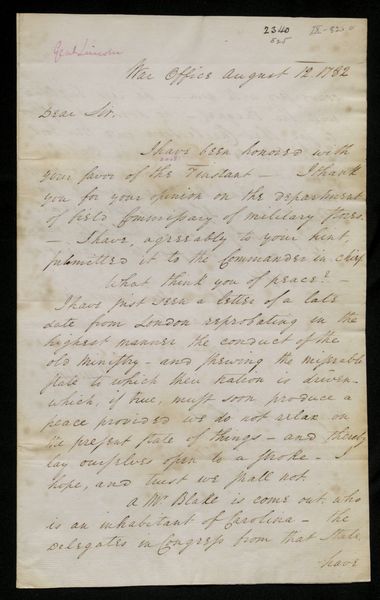 A high-resolution version of this object is available for registered users. LOG IN
Gilder Lehrman Collection #: GLC02437.01524 Author/Creator: Lincoln, Benjamin (1733-1810) Place Written: Philadelphia, Pennsylvania Type: Manuscript letter signed Date: 12 August 1782 Pagination: 2 p. : docket ; 33 x 20.4 cm.
Summary of Content: Written by Secretary of War Lincoln to Major General Knox. References Knox's letter of 7 August. Thanks him "for your opinion on the department of field Commisary of Military Stores." As Knox hinted, Lincoln said he has submitted it to Washington. Wants his opinion on the peace. Says he received a late letter from London "shewing the miserable state to which their nation is driven. - which, if true, must soon produce a peace provided we do not relax on the present state of things - and thereby lay ourselves open to a stroke." Says a Mr. Blake of South Carolina has recently returned from England and does not hesitate to say New York and Charlestown (Charleston) will be evacuated by the British in October. Blake claimed it would have be done sooner if transports could be had. Lincoln doubts the report saying "If this is their real design, why is it so publicly mentioned?" The body of the letter is written in the hand of William Jackson, Lincoln's assistant.
Full Transcript: War Office August 12. 1782

Dear Sir,

I have been honored with your favor of the 7 instant - I thank you for your opinion on the department of field Commissary of military ...stores. - I have, agreeably to your hint, submitted it to the Commander in chief.
What think you of peace? - I have just seen a letter of a late date from London reprobating in the highest manner the conduct of the old Ministry - and shewing the miserable state to which their nation is driven. which, if true, must soon produce a peace provided we do not relax on the present state of things - and thereby lay ourselves open to a stroke - I hope, and trust we shall not.
A Mr. Blake is come out. who is an inhabitant of Carolina - the Delegates in Congress from that State have [2] conversed with him - he left England with the Pacquet - he does not hesitate to say that Charlestown and New York will both be evacuated in October - that it would have been done before now but that they are waiting for Transports. If this is their real design - why is it so publicly mentioned? - We should be alert on our posts.
I have the honor to be
Dear Sir,
Your obedient servant.
B. Lincoln

Major Genl. Knox
Commanding the
Artillery.

[docket]
From
Gen Lincoln, Secy of War
12 August 1782See More
People:
Historical Era: American Revolution, 1763-1783
Subjects: Revolutionary WarRevolutionary War GeneralMilitary HistoryContinental ArmyPresidentGlobal History and US Foreign PolicyGlobal History and US Foreign PolicyDiplomacyTreatyNavy
Sub Era: The War for Independence