Pickering, Timothy (1745-1829) to Henry Knox
High-resolution images are available to schools and libraries via subscription to American History, 1493-1943. Check to see if your school or library already has a subscription. Or click here for more information. You may also order a pdf of the image from us here.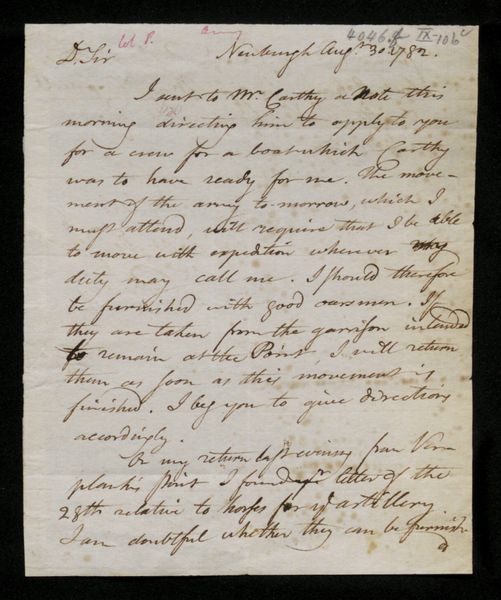 A high-resolution version of this object is available for registered users. LOG IN
Gilder Lehrman Collection #: GLC02437.01549 Author/Creator: Pickering, Timothy (1745-1829) Place Written: Newburgh, New York Type: Autograph letter signed Date: 30 August 1782 Pagination: 2 p. : docket ; 18.1 x 14.7 cm.
Writes, "I sent to Mr. [Daniel] Carthy a note this morning directing him to apply to you for a crew for a boat which Carthy was to have ready for me. The movement of the army to-morrow, which I must attend, will require that I be able to move with expedition whenever duty may call me. I should therefore be furnished with good oarsmen. If they are taken from the garrison intended to remain at the Point, I will return them as soon as their movement is finished. I beg you to give directions accordingly." Also discusses obtaining horses for moving the artillery.
Dr. Sir
I sent to Mr. Carthy a Note this morning directing him to apply to you for a crew for a boat which Carthy was to have ready for me. The movement of the army to-morrow, which I must attend, will require that I be able to move with expedition wherever My duty may call me. I should therefore be furnished with good oarsmen. If they are taken from the garrison intended to remain at the Point, I will return them as soon as this movement is finished. I beg you to give directions accordingly.
On my return last evening from Verplank's Point I found yr letter of the 18th relative to horses for [ye] artillery. I am doubtful whether they can be furnished [2] furnished until [ye] [Pork] arrives: but I have sent for Majr. Cogswell & after seeing him will again write you.
I am dr Sir
respectfully
yr most obedt. servt
T. Pickering
QMG
M. Genl Knox
[docket]
From
Col. Pickering
30 Augt. 1782