Hodgdon, Samuel (1745-1824) to Ezekiel Cheever
High-resolution images are available to schools and libraries via subscription to American History, 1493-1943. Check to see if your school or library already has a subscription. Or click here for more information. You may also order a pdf of the image from us here.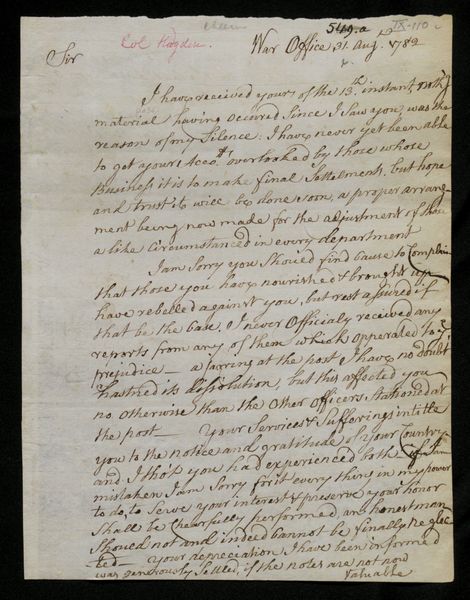 A high-resolution version of this object is available for registered users. LOG IN
Gilder Lehrman Collection #: GLC02437.01553 Author/Creator: Hodgdon, Samuel (1745-1824) Place Written: s.l. Type: Autograph letter signed Date: 31 August 1782 Pagination: 2 p. ; 24.9 x 18.8 cm.
Summary of Content: Marked "copy." Written from the War Office. Declares that he has not yet responded to Cheever's last letter because he had not yet been able to get his account overlooked by the people whose business it is to do so; he is confident they will soon, though, "a proper arrangement being now made for the adjustment of those a like Circumstanced in every department." Is saddened to hear that "those you have nourished & brought up have rebelled against you," but assures Cheever that he has never seen any reports from them that were prejudiced against him. Comments that Cheever's "Services & Sufferings intitle you to the notice and gratitude of your Country and I tho't you had experienced both. if I am mistaken I am Sorry for it is every thing in my power to do, to serve your interest & preserve your honor shall be Cheerfully performed, and honest man should not and indeed cannot be finally neglected." Also declares that he is sorry to hear Cheever's pay notes have depreciated but says that he is not unique in this unfortunate circumstance. Advises him not to "dispond at your present appearance, but cheerfully bear up" and "gallantly oppose this adverse course of affairs." Will write next when Cheever's affairs are reviewed.
Background Information: Ezekiel Cheever also has a son by the same name (1741-1826). According to the U.S. Military's Ordnance Corps website, the elder Cheever (1720-1793) was the Ordnance officer. www.goordnance....apg.army.mil/See More
People: Hodgdon, Samuel, 1745-1824
Cheever, Ezekiel, 1720-1793

Historical Era: American Revolution, 1763-1783
Subjects: Revolutionary WarContinental ArmyMilitary HistoryArtilleryAmmunitionFinanceSoldier's PayEconomics
Sub Era: The War for Independence