Knox, Henry (1750-1806) to George Washington
High-resolution images are available to schools and libraries via subscription to American History, 1493-1943. Check to see if your school or library already has a subscription. Or click here for more information. You may also order a pdf of the image from us here.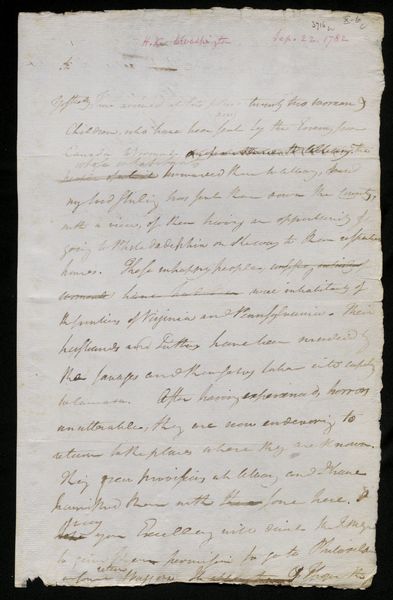 A high-resolution version of this object is available for registered users. LOG IN
Gilder Lehrman Collection #: GLC02437.01624 Author/Creator: Knox, Henry (1750-1806) Place Written: s.l. Type: Autograph letter signed Date: 22 September 1782 Pagination: 2 p. : docket ; 35.3 x 22.5 cm.
Summary of Content: Written by Major General Knox to General Washington. Says he arrived at camp to find that 22 American women and children, formerly prisoners who had travelled from Canada, were seeking assistance. They travelled down from Vermont to Albany, New York. From Albany, Lord Stirling sent them southward with the idea that they could reach Philadelphia. Says "These unhappy people, were inhabitants of the frontiers of Virginia and Pennsylvania. Their husbands and fathers have been murdered by the Savages and themselves taken into captivity to Canada." Reports that after "horrors unutterable," they were trying to return to places where they were known. Has given them some provisions and seems to be asking if Washington will give them permission to travel to Philadelphia on army wagons (handwriting is hard to decipher here). Hopes the Minister of War "will take measures to enable them to go with a degree of comfort to the places of their destination."
Full Transcript: [draft]
Sir
[inserted: Yesterday] There arrived at this place twenty two women & Children, who have been sent by the Enemy from Canada to Vermont [struck: and from [illegible] to Albany]. ...The [struck: people of which] [inserted: whose inhabitants] forwarded them to Albany, and my Lord Stirling has sent them down the Country, with a view, of them having an opportunity of going to Philadadelphia on the way to their respected homes. These unhappy peoples, [struck: consisting entirely of women have had their] were inhabitants of the frontiers of Virginia and Pennsylvania. Their husbands and fathers have been murder'd by the savages and themselvs taken into captivy to Canada. After having experienced, horrors unutterable, they are now endevoring to return to the places where they are known. They drew provisions at Albany and I have furnished them with [strikeout] some here. I [struck: hope] [inserted: pray] your Excellency will direct the QMsrs to give them provisions to go to Philadelphia and upon [inserted: return] [illegible] It [strikeout] I hope the [2] minister of war will take [struck: some] measures to enable them to go with [inserted: a] [strikeout] degree of comfort to the places of their destination.

I am Sir
with the highest
Respect
Your excellency
Obdnt Sert
H Knox

[docket]
To
His Excy Genl. Washington
22 Sept 1782.See More
People:
Historical Era: American Revolution, 1763-1783
Subjects: Prisoner of WarRevolutionary WarRevolutionary War GeneralMilitary HistoryContinental ArmyPresidentWest Point (US Military Academy)CanadaPrisonerWomen's HistoryChildren and FamilyFrontiers and ExplorationAmerican Indian HistoryDeathAtrocityMilitary ProvisionsTravelTransportation
Sub Era: The War for Independence