Morris, Gouverneur (1752-1816) to Henry Knox
High-resolution images are available to schools and libraries via subscription to American History, 1493-1943. Check to see if your school or library already has a subscription. Or click here for more information. You may also order a pdf of the image from us here.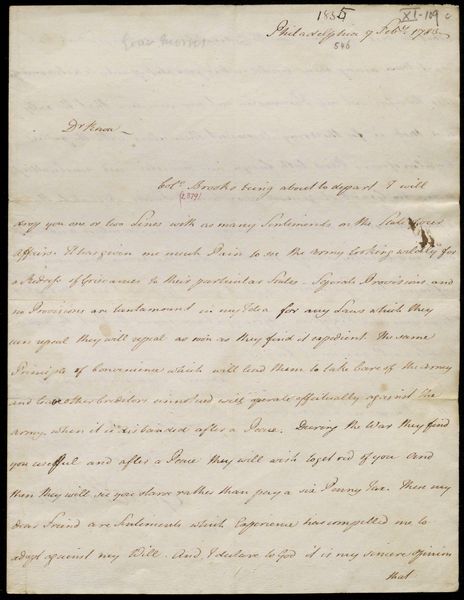 A high-resolution version of this object is available for registered users. LOG IN
Gilder Lehrman Collection #: GLC02437.01897 Author/Creator: Morris, Gouverneur (1752-1816) Place Written: Philadelphia, Pennsylvania Type: Autograph letter signed Date: 7 February 1783 Pagination: 2 p. : docket ; 23.8 x 18.2 cm.
Summary of Content: Written by Morris as the Assistant Superintendent of Finance to Major General Knox. Wants to give him an update on affairs. Says "It has given me much Pain to see the army looking wildly for a Redress of Grievances" -- a reference to the half-pay pensions the officers desired. Says that "During the War they find you useful and after a Peace they will wish to get rid of you And they will see you starve rather than pay a six Penny Tax.." Says experience has made him take this point of view. Predicts that "the best Legislature on the Continent will do Things which the worst man among them would in his private Capacity be ashamed of." Suggests that the officers should align themselves with the other creditors of the government to achieve their goal. Signer of the U.S. Constitution.
Background Information: Signer of the U.S. Constitution.
Full Transcript: [draft]
Philadelphia 7 Feb.y 1783
Dr Knox -
Col.o Brooks being about to depart I will drop you one or two Lines with as many Sentiments on the Scale of ...our affairs. It has given me much Pain to see the Army looking wildly for a Redress of Grievances to their particular fates. Separate Provisions and no Provisions are tantamount in my Idea for any Laws which they can repeal they will repeal as soon as they find it expedient. The same Principle of Convenience which will lead them to take Care of the Army and leave other Creditors unnoticed will operate effectually against the army when it is disbanded after a Peace. During the War they find you useful and after a Peace they will wish to get rid of you and then they will see you starve rather than pay a six Penny Tax. These my dear Friend are Sentiments which Experience has compelled me to adopt against my Will. And I declare to God it is my sincere opinion that [2] that the best Legislature on the Continent will do things which the worst man among them would in his private capacity be ashamed of. It is therefore not my Persuasion but my Conviction that the only wise mode is for the Army to connect themselves with the public Creditors of every Kind both foreign and domestic and unremittingly to urge the Grant of general permanent funds adequate to the whole Interest and which increasing with our Numbers and Wealth will consequently absorb the Principle. The Army may now influence the Legislatures and if you will permit one a Metaphor from your own Possession After you have carried the Post the public Creditors will garrison it for you -
Adieu Remember me to Mrs. Knox and beleive me
Most sincerely
Yours
Gouv Morris
[docket]
From Gouveneur Morris Esqr
7th Feby 1783See More
People:
Historical Era: The New Nation, 1783-1815
Subjects: Newburgh ConspiracyRevolutionary WarRevolutionary War GeneralMilitary HistoryContinental ArmySoldier's PayFinancePensionsPetitionContinental CongressCongressTaxes or TaxationGovernment and CivicsPovertyMorality and Ethics
Sub Era: