Jackson, Henry (1747-1809) to Henry Knox
High-resolution images are available to schools and libraries via subscription to American History, 1493-1943. Check to see if your school or library already has a subscription. Or click here for more information. You may also order a pdf of the image from us here.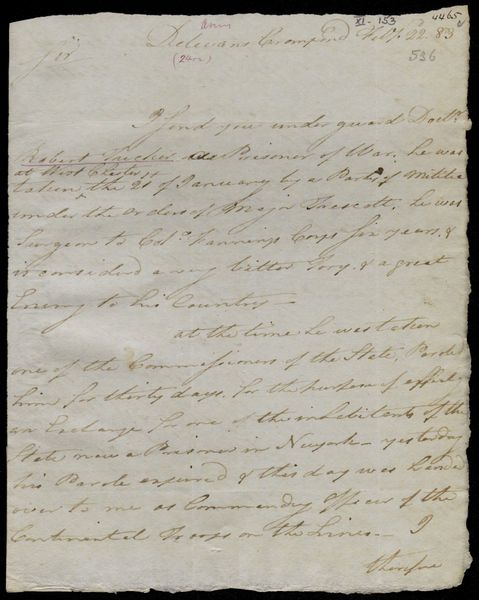 A high-resolution version of this object is available for registered users. LOG IN
Gilder Lehrman Collection #: GLC02437.01945 Author/Creator: Jackson, Henry (1747-1809) Place Written: New York Type: Autograph letter signed Date: 22 February 1783 Pagination: 2 p. : docket ; 20.9 x 16.6 cm.
Summary of Content: Informs Knox that he is sending Doctor Robert Tucker, "a very bitter Tory & a great enemy to his country," so "that he may be confined in the Provost at West Point & Secured in any other mode you may think necessary." Also mentions that there has been talk of peace in New York and that he hopes to hear very soon about the end of the war. Written at "[Delevans] Crompond," possibly in New York.
Full Transcript: [draft]
[Delevans] Crompond Feby 22.d 83
Sir
I send you under guard Doct:r Robert Tucker a Prisoner of War. he was taken [inserted: at West Chester] the 21st of January ...by a Party of Militia under the orders of Major Prescott. he was Surgeon to Col.o Fannings Corps [six] years, & is considerd a very bitter Tory & a great Enemy to his Country-
at the time he was taken one of the Commissioners of the State, Paroled him for thirty days, for the purpose of affectg an Exchange for one of the inhabitants of the State now a Prisoner in Newyork- yesterday his Parole expired & this day was handed over to me as Commanding Officer of the Continental Troops on the Lines- I therefore [2] have sent him to you that he may be confind in the Provost at West point or secured in any other mode you may think necessary-
Peace is the general talk in New York & a Packet is every moment expect'd to arrive with the news of that happy event- god speed it-
I am with regard
your effectionate frd
Henry Jackson Colo
Comdg Lines

Major General Knox

[docket]
From Col Jackson
22 Feby 1783.See More
People: Jackson, Henry, 1747-1809
Knox, Henry, 1750-1806

Historical Era: The New Nation, 1783-1815
Subjects: Revolutionary WarRevolutionary War GeneralMilitary HistoryContinental ArmyMilitary LawPrisonerPrisoner of WarLoyalistWest Point (US Military Academy)DiplomacyTreaty
Sub Era: