Shaw, Samuel (1754-1794) [Journal of Revolutionary War military officers and other staff]
High-resolution images are available to schools and libraries via subscription to American History, 1493-1943. Check to see if your school or library already has a subscription. Or click here for more information. You may also order a pdf of the image from us here.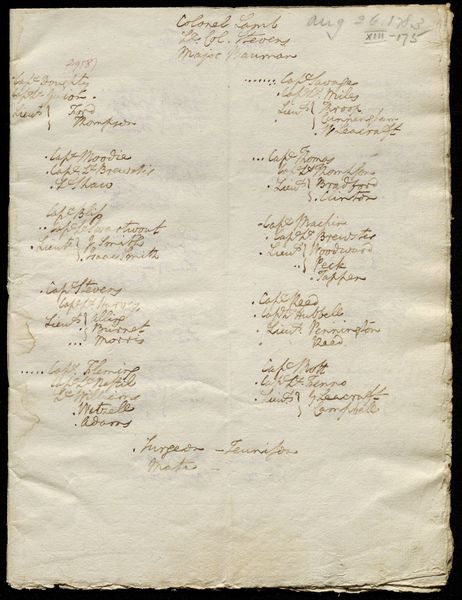 A high-resolution version of this object is available for registered users. LOG IN
Gilder Lehrman Collection #: GLC02437.02419 Author/Creator: Shaw, Samuel (1754-1794) Place Written: s.l. Type: Autograph manuscript Date: 26 August 1783 Pagination: 17 p. ; 23.8 x 18 cm.
Summary of Content: Hierarchical lists of (named) officers serving under Colonels [John] Lamb, [John] Crane, [Lewis] Nicola (Invalid Corps), [Benjamin] Tupper (10th Mass.), Butler (1st Conn.) and [Samuel] Webb (3rd Conn.), and Engineers and Sappers under Major [Jean Louis] Villefranche. Lists names cited every day from September 1, 1782 through August 25, 1783. The individuals are primarily American military officers (low- and high-ranking), but also include French officers, aides, doctors, civilians, etc. The names constitute a virtual "Who's Who" of the Revolutionary War: [George] Washington (his name appears 9 times), [Rufus] Putnam, [Friedrich Wilhelm] von Steuben, [Robert] Howe, [William] Heath, [Samuel] Huntington, [Alexander] McDougall, [Benjamin] Lincoln, [Robert] Morris, [George] Clinton, [Jonathan] Trumbull, [Francois Jean] Chastellux, Dr. Craik, [Pierre Charles] L'Enfant, and scores more.
Background Information: Research indicates that this list likely constitutes a record of individuals visiting camp on the days cited. A sampling of some of the better known individuals cited shows that they ...were on site, or could have easily been on site, on the dates cited.See More
People: Shaw, Samuel, 1754-1794
Crane, John, 1744-1805
Nicola, Lewis, 1717-1807
Tupper, Benjamin, 1738-1792
Webb, Samuel Blachley, 1753-1807
Villefranche, Jean-Louis-Ambroise de Genton, chevalier de, 1747-1784
Putnam, Rufus, 1738-1824
Steuben, Friedrich Wilhelm Ludolf Gerhard Augustin, Baron von, 1730-1794
Howe, Robert, 1732-1786
Heath, William, 1737-1814
Huntington, Samuel, 1731-1796
Morris, Robert, 1734-1806
Clinton, George, 1739-1812
McDougall, Alexander, 1732-1786
Trumbull, Jonathan, 1740-1809
Chastellux, François Jean, marquis de, 1734-1788
Lennox, Charles, Duke of Richmond and Lennox, 1735-1806
L'Enfant, Pierre Charles, 1754-1825
Lamb, John, 1735-1800

Historical Era: The New Nation, 1783-1815
Subjects: Muster Rolls and ReturnsRevolutionary WarRevolutionary War GeneralMilitary HistoryContinental ArmySoldier's DiaryMilitary CampArtilleryFranceImmigration and MigrationHealth and MedicalPresident
Sub Era: