Knox, Henry (1750-1806) to George Washington
High-resolution images are available to schools and libraries via subscription to American History, 1493-1943. Check to see if your school or library already has a subscription. Or click here for more information. You may also order a pdf of the image from us here.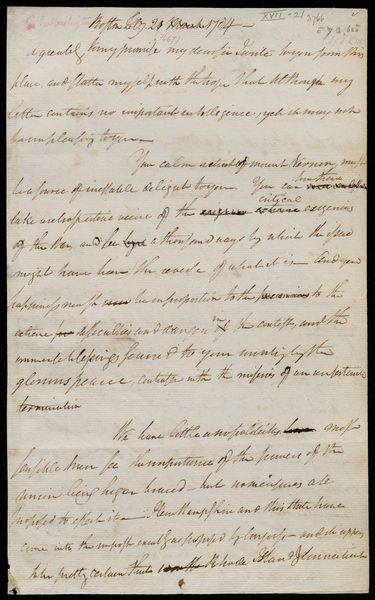 A high-resolution version of this object is available for registered users. LOG IN
Gilder Lehrman Collection #: GLC02437.02960 Author/Creator: Knox, Henry (1750-1806) Place Written: Boston, Massachusetts Type: Autograph letter signed Date: 21 February 1784 Pagination: 3 p. : docket ; 32 x 19.6 cm.
Summary of Content: Knox reflects on the Revolutionary War: "Your calm retreat to Mount Vernon must be a source of ineffable delight to you. You can from there take a retrospective view of the critical exigencies of the War, and see a thousand ways by which the issue might have been the reverse of what it is- And your happiness must be in proportion to the extreme difficulties and danger in the contest and the immense blessings secured to your country by the glorious peace... " Gives Washington news of Congress. Discusses the Society of the Cincinnati: "The Cincinnati appears however groundless to be an object of jealousy..." Notes that in response to the Society of the Cincinnati, a committee has been chosen by the Legislature of Massachusetts to investigate associations that "may have a tendency to create a race of an hereditary nobility..." Knox's retained draft.
Full Transcript: [draft]
Boston Feby. 21 [struck: March] 1784 -
Agreeably to my promise my dear sir I write to you from this place, and flatter myself with the hope that although my letter ...contains no important intelligence, yet it may not be unpleasing to you -
Your calm retreat of Mount Vernon, must be a source of ineffable delight to you. You can [strikeout] [inserted: from thence] take a retrospective view of the [strikeout] [inserted: critical] exigencies of the War, and see [strikeout] a thousand ways by which the issue might have been the reverse of what it is - And your happiness must [struck: now] be in proportion to the [strikeout] to the extreme [struck: for] difficulties and danger [struck: of] [inserted: in] the contest, and the immense blessings secured to your country by the glorious peace, contrasted with the miseries of an unfortunite [sic] termination
We have little or no politicks. [strikeout] Most sensible men see the importance of the powers of the union being higher braced - but no measures are proposed to effect it - New Hampshire and this state have come into the impost exactly as proposed by Congress - and it appears to be pretty certain that [strikeout] Rhode Island & Connecticut [2] will be induced to [accede] to it -
The Cincinnati appears [inserted: (however groundless)] to be an object of Jealousy - The idea is that it has been created by a foreign influence in order to change our forms of Governmnt and this is strengthed by a letter from some of our ministers abroad - Burkes pamphlett has had its full operation - The cool dispassionate [struck: people] [inserted: men] seem to approve of the institution generally but dislike the hereditary desent. [sic] - The two branches of the Legislature [inserted: of the State govt] the assembly & Senate have chosen a Committee "To inquire into any [struck: com] associations or combinations which have or may be formed to introduce undue distinctions in the community, and which may have a tendency to create a race of [inserted: an] hereditary nobility contrary to the confederation of the united States & the spirit of this constitution." - [inserted: They have not yet reported, and perhaps will not] -The same sentiments prevade new England - [struck: Our] [inserted: The] Society [inserted: has] have had a [inserted: respectable] meeting on Boston on the 10th instant at which Genl Lincoln presided - [struck: Our friend] Genl Heath was not present - a Committee [struck: wh] was chosen to attend the general meeting, [struck: of which] at Philadelphia next May - Genl [inserted: R] Putnam - Colo Cobb Lt Col. Hull - Majr. Sargent & myself - [strikeout] [inserted: probably two only will attend] - It was thought prudent not to make any honory [sic] members at [3] at present - The officers and soldiers [struck: from] conduct themselves in an exemplary manner, and are generally as industrious as any part of the community [struck: and are well respected] -
I wrote to your [inserted: Excellency] from West Point on the 3d ultimo enclosing [inserted: the returns &] a particular account of matters there [inserted: which I hope met your approbation] - and I also wrote you [struck: from there] on the 9th the day I set out from that place - [strikeout] [struck: I have taken a house] [inserted: We reside at Dorchester] about 5 miles from [inserted: town] where we are agreably situated for the present - [struck: Mrs. Knox joins me in] [struck: I have heard nothing of any [establishment] by Congress] I shall hope for the pleasure of hearing from you at your leisure Mrs Knox presents her sincere & [inserted: ardent] respects and affection to Mrs Washington, and will have the [struck: happiness] pleasure of writing to her soon, In which I pray my [struck: affectionate] [inserted: respectful] compliments may be added - I am my dear sir Your truly respectful and affectionate
humble servt
H Knox
His [Excellency] Genl Washington

[docket]
To his Excellency Genl Washington
21. Feby 1784 -See More
People: Washington, George, 1732-1799
Knox, Henry, 1750-1806

Historical Era: The New Nation, 1783-1815
Subjects: Society of the CincinnatiRevolutionary WarRevolutionary War GeneralMilitary HistoryContinental ArmyPresidentMount VernonGlobal History and US Foreign PolicyGlobal History and US Foreign PolicyContinental CongressCongressFraternal OrganizationGovernment and Civics
Sub Era: Creating a New Government