Harmar, Josiah (1753-1813) to Henry Knox
High-resolution images are available to schools and libraries via subscription to American History, 1493-1943. Check to see if your school or library already has a subscription. Or click here for more information. You may also order a pdf of the image from us here.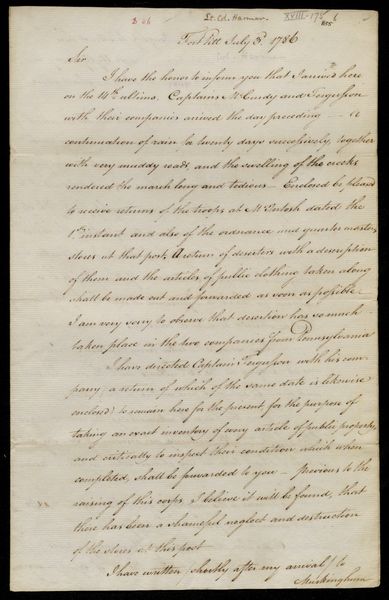 A high-resolution version of this object is available for registered users. LOG IN
Gilder Lehrman Collection #: GLC02437.03280 Author/Creator: Harmar, Josiah (1753-1813) Place Written: Pittsburgh, Pennsylvania Type: Manuscript letter Date: 3 July 1786 Pagination: 4 p. : docket ; 32.4 x 20.5 cm.
Summary of Content: Written from Fort Pitt, the location of present-day Pittsburgh, Pennsylvania. Discusses his arrival at the fort the month before, and describes which officers and companies are there, or are on their way. Includes returns of personnel and stores, and complains that the stores have not been well-maintained. Also indicates the high rate of desertion from the fort. Provides intelligence he has received from a Moravian Indian called "John Bull" (who is called "Sheebo" by other Indians), which consists of the movements of local Indian groups (including Moravian, Chippewa and Ottowa Indians) and their interactions with the United States soldiers in the area. Mentions that Captain [Thomas] Hutchins has recently arrived, and explains his plans for the survey of the area; also says that Captain [John]] Doughty will soon arrive and will be in charge of the artillery artificers. Docketed in pencil on page 4, possibly at a later date. Copy, written in the hand of War Department secretary Robert Pemberton and signed by him for Harmar.
Background Information: Josiah Harmar served throughout the Revolutionary War and was chosen by Congress to deliver the ratification of the peace treaty to Benjamin Franklin in Paris. He then commanded the new ...U.S. army in Ohio, where he was responsible for making peace with, or fighting against, the Indians. His 1790 expedition against the Miami was not successful and Arthur St. Clair was given command over him. Harmar resigned from the service in 1792.See More
People: Knox, Henry, 1750-1806
Harmar, Josiah, 1753-1813
Doughty, John, 1754-1826
Hutchins, Thomas, 1730-1789

Historical Era: The New Nation, 1783-1815
Subjects: American Indian HistoryFrontiers and ExplorationRevolutionary War GeneralMilitary HistoryFrontiers and ExplorationMuster Rolls and ReturnsMilitary SuppliesDesertionSurveyingGeography and Natural HistoryWestward ExpansionArtilleryDiplomacy
Sub Era: Creating a New Government