North, William (1755-1836) to Henry Knox
High-resolution images are available to schools and libraries via subscription to American History, 1493-1943. Check to see if your school or library already has a subscription. Or click here for more information. You may also order a pdf of the image from us here.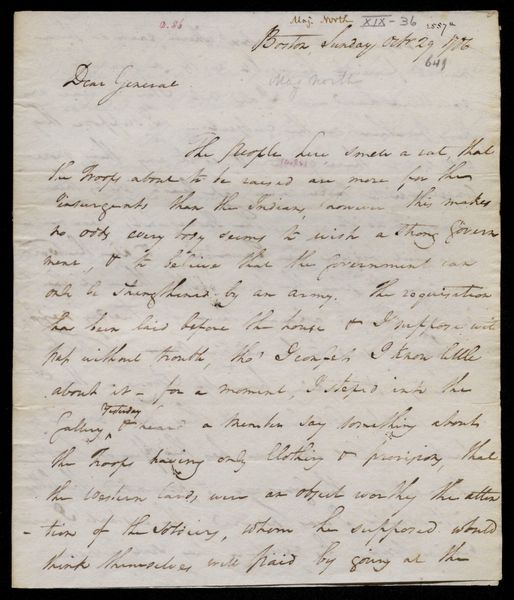 A high-resolution version of this object is available for registered users. LOG IN
Gilder Lehrman Collection #: GLC02437.03322 Author/Creator: North, William (1755-1836) Place Written: Boston, Massachusetts Type: Autograph letter signed Date: 29 October 1786 Pagination: 3 p. : address : docket ; 23 x 19.5 cm.
Summary of Content: Writes, "The people here smell a rat, that the Troops about to be raised are more for the insurgents than the Indians, however this makes no odds, every body seems to wish a strong government, & to believe the government can only be strengthened by an army. The requisition has been laid before the house & I suppose will pass without trouble, tho' I confess I know little about it- for a moment, I steped [sic] into the Gallery yesterday & heard a member say something about the Troops having only clothing & provisions, that the Western lands were an object worthy the attention of the soldiers, whom he supposed would think themselves well paid by going at the public expense to a country where each of them might furnish himself with a quantity of excellent land. I did not stay to hear any thing further on the Subject. I suppose they will raise their quota, & as to any thing more - Congress will take care, at least, it is their business to do it." Also mentions that the insurgents seem pitiful, though he has heard that Shay [Daniel Shays] is recruiting men in the country. Finally, relates the details of a recent meeting with the Governor.
Full Transcript: Boston Sunday Octr 29 1786
Dear General

The people here smell a rat, that the Troops about to be raised are more for the insurgents than the Indians, however this makes no ...odds, every body seems to wish a strong government, & to believe that the government can only be strengthened by an army. The requisition has been laid before the house & I suppose will pass without trouble, tho' I confess I know little about it - for a moment, I steped into the Gallery [inserted: yesterday] & heard a Member say something about the Troops having only Clothing & provisions, that the Western lands were an object worthy the attention of the soldiers, whom he supposed would think themselves well paid by going at the [2] public expence to a Country where each of them might furnish himself with a quantity of excellent land - I did not stay to hear any thing further on the subject - I suppose they will raise their quota, & as to any thing more - Congress will take care, at least, it is their business to do it. The Insurgents, have made a [pitiful] figure at Taunton - & all the world are going to play the devil with them at Cambridge if they dare to appear there on tuesday next.
Shay is said to be enlisting men in the back country, & making himself strong - this I was told by Colo [Crafts] & others who say it is fact. Colo Jackson has the offer of the Regt. I waited on the Governor & presented the letters with which I was honored, the instant I arrived in town, his excellency has sent a note [3] desiring myself & Sumner to drink Tea with him this afternoon when perhaps I shall hear what is intended with respect to my business.
The moment I know my fate, I leave this for New York, where I hope to have the honor of seeing you in a little time -
With the greatest of respect
I am
Dr General
Your obed Serv.
Wm North
[address leaf]
The Honorable
General Knox
New York
[docket]
from Major North 29 Octr
1786 -See More
People: Knox, Henry, 1750-1806
North, William, 1755-1836
Shays, Daniel, 1747-1825
Newberry, Roger, fl. 1786
Shepard, William, 1737-1817
Huntington, Samuel, 1731-1796

Historical Era: The New Nation, 1783-1815
Subjects: American Indian HistoryMobs and RiotsShays' RebellionRebellionGovernment and CivicsMilitary HistoryRevolutionary War GeneralArticles of ConfederationUS ConstitutionMilitary SuppliesMilitiaClothing and AccessoriesLand TransactionWestward ExpansionSoldier's PayRecruitment
Sub Era: Creating a New Government