Jackson, Henry (1747-1809) to Henry Knox
High-resolution images are available to schools and libraries via subscription to American History, 1493-1943. Check to see if your school or library already has a subscription. Or click here for more information. You may also order a pdf of the image from us here.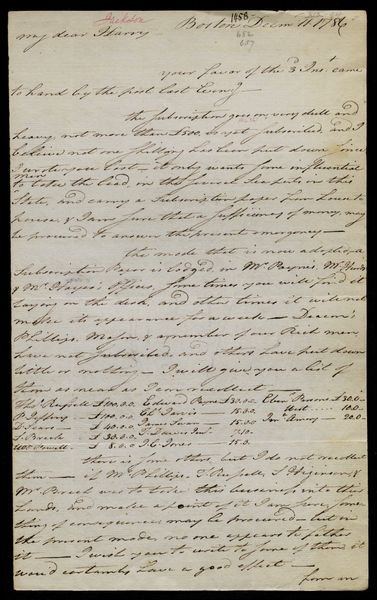 A high-resolution version of this object is available for registered users. LOG IN
Gilder Lehrman Collection #: GLC02437.03371 Author/Creator: Jackson, Henry (1747-1809) Place Written: Boston, Massachusetts Type: Autograph letter signed Date: 11 December 1786 Pagination: 4 p. ; 32.1 x 19.5 cm.
Summary of Content: Writes that he is having difficulties with the "subscription," apparently being unable to raise even one shilling since writing his last letter. Complains about the carelessness with which the subscription paper is left around, and mentions that several "Rich men" still have not paid. Provides a list of the people who paid, and the amount they paid. Suggests that Knox asks some of their associates, such as Mr. [Samuel] Higginson and Mr. [Samuel] Breck, to lobby for subscriptions where they live. Writes that if he had known Knox was too short of funds to help his recruiting efforts, he would not have recruited so many troops so quickly. Says he could procure supplies if he was guaranteed money within a couple of months. Asks for information on rations. Mentions the heavy snow they have received in Boston. Discusses the taxes due at the Falmouth lands, and how the snow is collecting on the property. Has received the arms and accoutrements from Mr. [Samuel] Hodgdon. Mentions a letter providing news about Shays' Rebellion.
People: Knox, Henry, 1750-1806
Jackson, Henry, 1747-1809
Higginson, Stephen, 1743-1828
Breck, Samuel, 1747-1809
Hodgdon, Samuel, 1745-1824

Historical Era: The New Nation, 1783-1815
Subjects: Land TransactionFinanceMilitary HistoryRecruitmentMilitary SuppliesMilitary ProvisionsTaxes or TaxationWeaponry
Sub Era: Creating a New Government