Morris, John (fl. 1787) to Mrs. Morris
High-resolution images are available to schools and libraries via subscription to American History, 1493-1943. Check to see if your school or library already has a subscription. Or click here for more information. You may also order a pdf of the image from us here.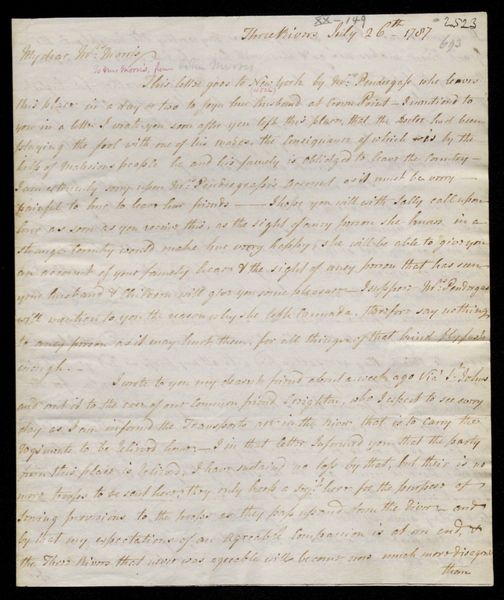 A high-resolution version of this object is available for registered users. LOG IN
Gilder Lehrman Collection #: GLC02437.03623 Author/Creator: Morris, John (fl. 1787) Place Written: Three Rivers, Quebec, Canada Type: Autograph letter signed Date: 26 July 1787 Pagination: 12 p. ; 22.6 x 18.9 cm.
Summary of Content: Writes a very long and detail letter to his wife about the news from the area and his application for half pay. Reports that "Doctor [Mr. Pendergass] had been playing the fool with one of his mades, the consiquances [sic] of which is by the help of malesious [sic] people he and his family is oblidged to leave the country." Mentions the doctor's wife could use a friendly face and asks his wife to call upon her. Says there has been no further news regarding the commissioners. Appears to be discussing a claim for payment he sent to the commissioners. States that if he does not receive payment before the commissioners' return in September he will not be able to send for her. Reaffirms that she is better off where she is now than she would be with him in his current situation. Discusses land laws that the states have been passing and the ramifications they may have on the people including loyalists. Voices concern that his creditors will no longer accept paper money. Mentions how a convention of the states being held at Philadelphia [the Constitutional Convention] may change how the government is run and the effects it may have on the British government and its citizens. Writes that the consequences of "that Convention will be be [sic] a total change in the Govrn:t of the states, and that a reunion with great Brittain upon some principals or other will be the plan that [all] the parties concerned in the late War will fix upon..."
People: Morris, John, fl. 1787

Historical Era: The New Nation, 1783-1815
Subjects: Soldier's PayFinancePensionsCanadaGlobal History and US Foreign PolicyGlobal History and US Foreign PolicySexualityCorruption and ScandalWomen's HistoryGovernment and CivicsChildren and FamilyLand TransactionLawDebtCoins and CurrencyUS Constitutional ConventionRevolutionary WarLoyalistUS Constitution
Sub Era: Creating a New Government