Jackson, Henry (1747-1809) to Henry Knox
High-resolution images are available to schools and libraries via subscription to American History, 1493-1943. Check to see if your school or library already has a subscription. Or click here for more information. You may also order a pdf of the image from us here.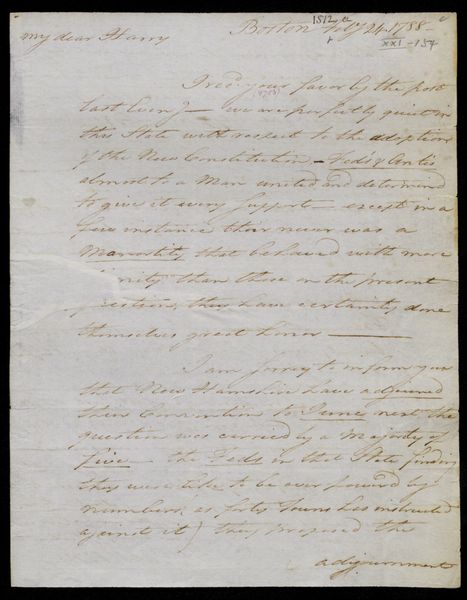 A high-resolution version of this object is available for registered users. LOG IN
Gilder Lehrman Collection #: GLC02437.03807 Author/Creator: Jackson, Henry (1747-1809) Place Written: Boston, Massachusetts Type: Autograph letter signed Date: 24 February 1788 Pagination: 2 p. ; 25.5 x 19.9 cm.
Jackson writes, "we are perfectly quiet in this State with respect to the adoption of the New Constitution-Fed's & Anti's almost to a Man united and determined to give it every support..." Reports that New Hampshire has adjourned their ratification convention until June. Encloses a letter from a man who hopes to buy land from Knox (letter not included).
[draft]
Boston, Feby 24. 1788 -
my dear Harry
I recd. your favor by the post last Eveng - we are perfectly quiet in this State with respect to the adoption of the New Constitution - Fed's & Anti's almost to a Man united and determind to give it every support - except in a few instance their never was a [Man or City] that behaved with more [text loss]nity than those on the present [question], they have certainly done themselves great honor -
I am sorry to inform you that New Hampshire have adjourned their Convention to June next, the question was carried by a Majority of five - the Feds in that State finding they were like to be over powerd by numbers (as forty Towns has instructed against it) they proposed the adjournment [2] the adjournment in hopes that by giving time some of them would be brought over to the Faith - all the Men of abilities, integrity, property & influence in that State are in favor - but numbers at present appear against them -
Many are of opinion that the adjournment will have a good effect, & it will have a good effect, & it will finally be ratified by them - which I pray god may be the case -
the inclosed Letter
a Man (who's appearance is favorable) Falmouth desirous to purchase about twenty acres of Land, he says, its worth four dollars p. acre -
I inclosed you last post a Letter for Mrs. S - take care of it & forwardd [sic] it by the first packet or safe conveyance -
Your friends are all well & send their Love to you & Lucy - Mrs Swan desires particularly to be remembered to you & Lucy, your attention to her last winter, will never be forgotten - my love to you all -
From your trusty affectionate
H Jackson
Genl. Knox