Jackson, Henry (1747-1809) to Henry Knox
High-resolution images are available to schools and libraries via subscription to American History, 1493-1943. Check to see if your school or library already has a subscription. Or click here for more information. You may also order a pdf of the image from us here.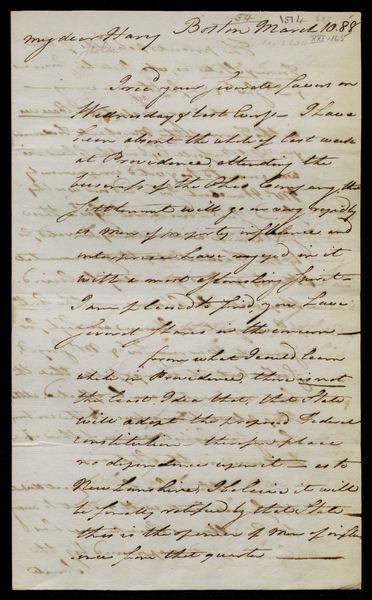 A high-resolution version of this object is available for registered users. LOG IN
Gilder Lehrman Collection #: GLC02437.03819 Author/Creator: Jackson, Henry (1747-1809) Place Written: Boston, Massachusetts Type: Autograph letter signed Date: 10 March 1788 Pagination: 3 p. : docket ; 30.2 x 18.3 cm.
Reports that he has been absent from Boston, attending a meeting of the Ohio Company in Providence, Rhode Island. Is pleased to find Knox has several shares of Ohio Company land. Predicts that New Hampshire will ratify the Constitution and Rhode Island will not. Hopes that John Hancock and Benjamin Lincoln will win the next election for governor and lieutenant governor of Massachusetts respectively. Notes that the Anti-Federalists and the "Insurgent influence" will support [James] Warren and [Elbridge] Gerry for the positions. Further discusses politics.
[draft] Boston March 10. 88
my dear Harry
I recd your several favors on Wednesday & last Eveng - I have been absent the whole of last week at Providence, attending the business of the Ohio Company, [the] settlement will go on very rapidly as Men of property, influence and enterprise have [engaged] in it with a most astonishing spirit - I am pleased to find you have several shares in the concern -
from what I could learn while in Providence, there is not the least Idea that that State will adopt the proposed Federal Constitution - therefore place no dependence upon it - as to New Hamshire, [sic] I believe it will be finally ratified by that State - this is the opinion of men of influence from that quarter -
[2] The present politicks of the Town & State is, who shall be Governour & Lt. Govr & cc for the year coming -
at a very respectable Caucus in the Towns of the Merchants, Tradesmen & cc Thos. Russell Esqr in the Chair - is [well] connected too & voted unanimously Mr. Hancock Govr and our worthy friend Genl. Lincoln Lt. Govr - those gentlemen will certainly be voted for by the Federalist & the governmental Party, & it is generally believed they will be Chosen - the Anti & Insurgent influence are high for General Warren Govr. & Mr. Gerry Lt: Govr but it is impossible that the best nomination can be effected, altho they please themselves to the contrary having the highest opinion of their importance in the State -
there has been a great dispute in the General court with respect to [answring] his Excellencies Speech, one has been reported, & approved by the Senate [3] Senate, but violently opposed in the House, by the Anti influence, they have debated this business for two days, & have not as yet come to any determination - in the appointment of a second committee for the purpose it is said the Speaker of the House, [cou'd] readily hear the nomination of an Anti altho the Name of a Fed, rang [tho] the whole house without his being able to hear it - you will observe in the Friday, & Saturday papers, some Strokes upon him on that head -
your friends are all well & send their Love to you & Lucy, your ac. of the copper business I believe is nearly true, but it is very distant from what we had an Idea off -
From your ever & truly affectionate -
H Jackson
[docket]
Genl H Jackson
10 March 1788 -