Knox, Henry (1750-1806) to George Washington
High-resolution images are available to schools and libraries via subscription to American History, 1493-1943. Check to see if your school or library already has a subscription. Or click here for more information. You may also order a pdf of the image from us here.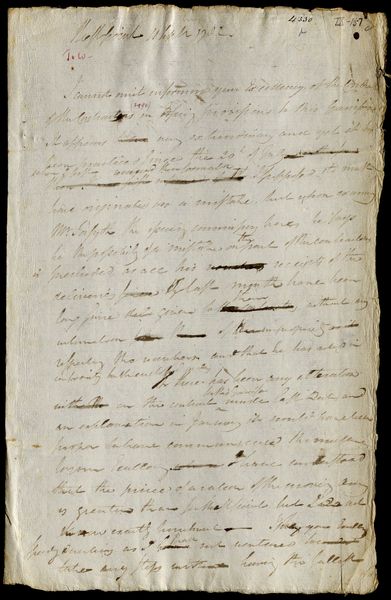 A high-resolution version of this object is available for registered users. LOG IN
Gilder Lehrman Collection #: GLC02437.10043 Author/Creator: Knox, Henry (1750-1806) Place Written: West Point, New York Type: Autograph letter signed Date: 11 September 1782 Pagination: 2 p. : docket ; 35.9 x 22.8 cm.
Discusses problems with the issuance of provisions at West Point. Knox's retained draft.
[Draft]
Westpoint 11 Septr 1782.
I cannot omit informing your Excellency of the Conduct of the Contractors in issuing provisions to this Garrison. It appears [struck: to me] very extraordinary and yet it has been practiced since the 20h of July [strikeout] [struck: When I was first informed of it] [inserted: when I first received the information] I supposed it must have orginated in a mistake, but upon examing Mr. Forsyth the issuing commisary here, he says he the possibility of a mistake on [inserted: the] part of the contractors [inserted: is] precluded, as all his [struck: vouchers] receipts of the deliveries since [struck: of] last month have been long since [struck: del] given to [struck: the contractors] [inserted: them], without any intimation [struck: from them] of [strikeout] impropriety [struck: as it] respecting the numbers and that he has acted in conformity to the enclosed orders
If there has been any alteration [struck: with the] in the contract [inserted: for this Garrison] made last Decbr, and an explanation in January it would have been proper to have communicated the matter to your Excellency [struck: whom] I have understood that the price of a ration of the moving army is greater than for Westpoint, but I [strikeout] [do] not [kn]ow exactly [how much] - I [pray] your Excellny [inserted: speedy] directions as I [struck: have] [inserted: shall] not ventured to [struck: conduct] take any step, without having the fullest [2] information.
I have the honor to be with
the highest Respect
Your Excellencys
Obedient Serv
HKnox
His Excellency General Washington
[docket]
To His Exely Gen Washington -
11 Sept 1782.