Gibbs, Caleb (ca. 1748-1818) to Henry Knox
High-resolution images are available to schools and libraries via subscription to American History, 1493-1943. Check to see if your school or library already has a subscription. Or click here for more information. You may also order a pdf of the image from us here.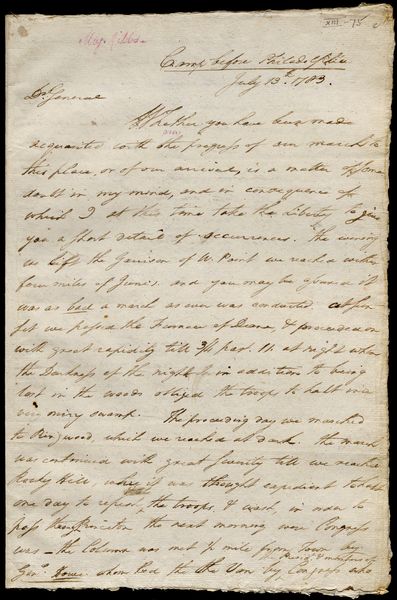 A high-resolution version of this object is available for registered users. LOG IN
Gilder Lehrman Collection #: GLC02437.10121 Author/Creator: Gibbs, Caleb (ca. 1748-1818) Place Written: Pennsylvania Type: Autograph letter signed Date: 13 July 1783 Pagination: 3 p. : address : docket ; 35.5 x 23.4 cm.
Summary of Content: Major Gibbs writes from Germantown, outside of Philadelphia, to General Henry Knox, Commander of West Point Describes in detail the march of his detachment from West Point to quell mutineers in Pennsylvania. On the way, they passed through Princeton, New Jersey, where Congress was stationed at that time. Describes saluting Congress, and comments on Elias Boudinot, President of Congress: "the Officers formed in the Center of their Respective Regts & were introduced to the President who asked a number to take Breakfast with him." Discusses the reaction of local residents to soldiers: "the Inhabitants at first seem.d not to like our coming among them, but have in a great measure become more reconciled, every attention have been shown the officers in General..." Mentions entertainment organized by merchants of Philadelphia for the officers. Notes, "the troops are even supply.d with good beef & bread &... liquor, the officers live exceedingly well..." Remarks that his detachment has been separated from their baggage, but they purchased clothing to make themselves "appear decent & Respectable." Remarks, "The Harbour is crowded with ships of different nations & the City is filld with strange faces..."
Background Information: Gibbs was the noted leader of George Washington's personal guard during the Revolutionary War, and later transferred to the Second Massachusetts Regiment.
People: Knox, Henry, 1750-1806
Gibbs, Caleb, fl. 1748-1818

Historical Era: The New Nation, 1783-1815
Subjects: Continental CongressCongressNewburgh ConspiracyMobs and RiotsMutinyRebellionSoldier's PayContinental ArmyRevolutionary WarRevolutionary War GeneralMilitary HistoryEntertaining and HospitalityMerchants and TradeDiet and nutritionAlcoholClothing and AccessoriesMilitary SuppliesForeign AffairsGlobal History and CivicsCommerce
Sub Era: