Knox, Henry (1750-1806) to George Washington
High-resolution images are available to schools and libraries via subscription to American History, 1493-1943. Check to see if your school or library already has a subscription. Or click here for more information. You may also order a pdf of the image from us here.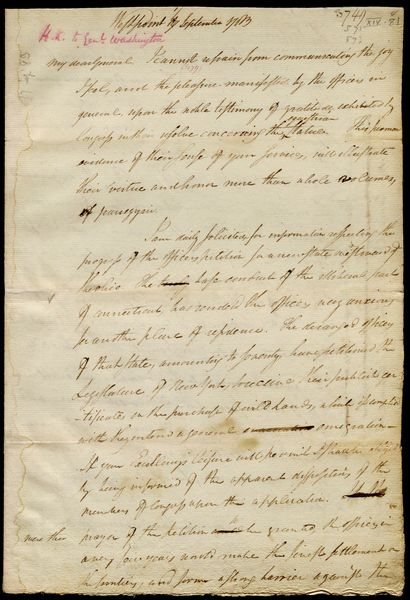 A high-resolution version of this object is available for registered users. LOG IN
Gilder Lehrman Collection #: GLC02437.10138 Author/Creator: Knox, Henry (1750-1806) Place Written: West Point, New York Type: Autograph letter signed Date: 17 September 1783 Pagination: 3 p. : docket ; 34.7 x 23.2 cm.
Summary of Content: Knox, Commander at West Point, writes, "I cannot refrain from communicating the joy I feel, and the pleasure manifested by the officers in general, upon the noble testimony of gratitude exhibited by Congress in their resolve concerning the equestrian statue..." Requests information regarding an officers' petition to Congress in which officers would be granted lands in place of their back pay. Assures Washington, "Were the prayer of the petition to be granted, the officers in a very few years would make the swift settlement on the frontiers, and form a strong barrier against the barbarians..." Suggests the creation of the office of master general of ordnance, noting that the current Minister of War (Benjamin Lincoln, Secretary at War) does not predict the appointment of a successor to his post. Asserts that the master general of ordnance would "...reside near Congress to execute such orders as they should think proper for the dignity or security of the republick." Expresses his wish for Washington to keep this letter in confidence. Notes that if he were appointed as master general of ordnance, he would give the post his "zealous assistance." His wife Lucy sends her respectful regards to Martha Washington. Knox's retained draft.
Background Information: In 1783, Congress voted to commission an equestrian sculpture of George Washington; sculptor Thomas Crawford received the commission in the mid-nineteenth century. Knox became the first Secretary of War in George ...Washington's cabinet, serving from 1789-1794.See More
Full Transcript: [Draft]
West point 17 September 1783
My dear General I cannot refrain from communicating the joy I feel, and the pleasure manifested by the officers in general, upon the noble testimony of ...gratitude exhibited by Congress in their resolve concerning the [inserted: equestrian] statue. This [permanent] evidence of their sense of your services, will illustrate their virtue and honor more than whole volumes, of panegyric.
I am daily solicited for information respecting the progress of the officers petition for a new state westward of the ohio. The [struck: truly] base conduct of the illiberal part of connecticut, has render'd the officers very anxious for another place of residence. The deranged officers of that state, amounting to seventy, have petitioned the Legislature of New York, to receive their publick certificates in the purchase of wild Lands, which if complied with they intend a general [struck: evacuation] emigration - If your Excellencys leisure will permit I shall be oblig'd by being informed of the apparent dispositions of the members of Congress upon the application. [struck: If the] [inserted: were the] prayer of the petition [struck: could] [inserted: to] be granted, the officers in a very few years would make the finest settlement on the frontiers, and form a strong barrier against the [2] the barbarians.
I have had it in contemplation for a long time past to mention to your Excellency the idea of a master general of ordnance. But I hesitated, - and finally declined it in my last opinion to you upon a peace establishment least it might be concluded, that I was endeavoring [sic] to create a post for myself. But the resignation of the minister of war evential [sic] upon the definitive treaty of peace; and his opinion that no successor will be appointed, joined to the necessity of having some person responsible to Congress, [inserted at left margin: for the charge and direction of the ordnance and stores, [struck: and to give] make [struck: [strikeout] concerning the management, and] dispositions of any troops who may be retained in service, to the several posts that are or shall be established] seem to combine to render such an officer peculiarly necessary, who should principally reside near Congress to execute such orders as they should think proper for the dignity or security of the republick. It is a well known fact that so complex, and extensive a business as the formation of an ordnance, and its numerous dependencies, The manufactory of small arms and accoutrements must be the work of much time, and can only be effectually prepared in profound peace.
Congress have evinced so much wisdom and magnammity [sic] in their conduct, that it cannot be doubted but that they will make the most substantial [3] substantial arrangements for future exigencies, consistent with their revenues and the [nicest] Å"conomy. [struck: The]
The abundant experience I have had of your Excellencys kindness and friendship has induced me to communicate this in confidence. I beg leave at the same time to remarke [sic], that although my expectations and wishes are for private life, yet if any office similar to the above, should be formed upon the broad scale of national policy, I might if thought worthy, find it convenient to give it my [struck: self] zealous assistance - I mention this matter more readily from a remembrance of your favorable [struck: opinions] recommendations for the office of Secretary of War.
Mrs Knox requests that her respectful regards may be presented to Mrs. Washington - she and her children are in perfect health.

[struck: I have the ho]
I am my Dear sir
with the sincerest respect & affection
Your most obedient
Servant
H Knox

His Excellency Genl Washington
[docket]
To his Excellency Genl Washington
17 Septr 1783See More
People: Knox, Henry, 1750-1806
Washington, George, 1732-1799
Washington, Martha, 1731-1802
Knox, Lucy Flucker, 1756-1824

Historical Era: The New Nation, 1783-1815
Subjects: Revolutionary WarRevolutionary War GeneralMilitary HistoryMonumentArt, Music, Theater, and FilmCongressPetitionSoldier's PayLand TransactionFrontiers and ExplorationAmerican Indian HistoryOffice SeekerNational SecurityFirst LadyContinental Congress
Sub Era: Creating a New Government