Graham, James (fl. 1679-1700) to Robert Livingston re: news from political scene at New York
High-resolution images are available to schools and libraries via subscription to American History, 1493-1943. Check to see if your school or library already has a subscription. Or click here for more information. You may also order a pdf of the image from us here.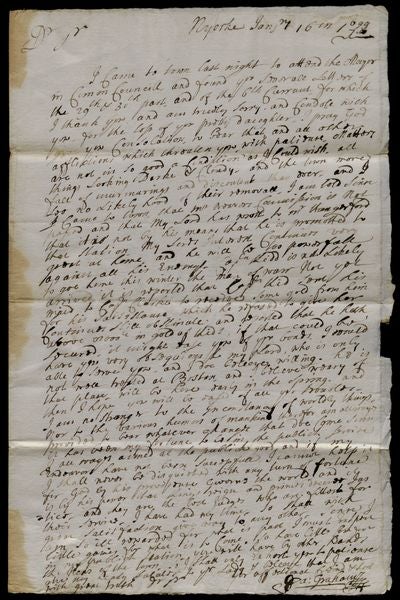 A high-resolution version of this object is available for registered users. LOG IN
Gilder Lehrman Collection #: GLC03107.00542 Author/Creator: Graham, James (fl. 1679-1700) Place Written: New York, New York Type: Autograph letter signed Date: 1700/01/16 Pagination: 1 p. + addr. 30.5 x 20 cm
Summary of Content: Graham begins with consolation regarding the passing of Livingston's daughter. He continues by discussing a failed attempt by Gov. Fletcher to gain a commission for a Mr. Weaver, and yet mentions "My Lords interest continues very great at home." Furthermore, Graham discusses the case of Captain William Kidd, where Kidd's maid was forced to request some of the £ 8000 in gold owned by Kidd in the hands of a Capt. Clarke. Grahams tells Livingston that "if that [Kidd's fortune] could be secured, it might safe you of your bonds." Docketed on address leaf.
Full Transcript: New York, [N.Y.] 16 January 1700
D[ea]r Sir
I Came to town last night to attend the Mayor in Comon Councill, and found yr severall Letters of the 29th & 30...th past, and of the 6th Currant, for which I thank you and am truly sorry and Condole with you for the loss of yr pretty daughter. I pray God give you Consolation, to bear that and all other afflictions which threaten you with patiense. Matters are not in so good a Condition as I Could wish, all things Looking Darke & Cloudy, and the town more full of murmurings and discontent than ever, and I see no Likelyhood of their removal, I am told since I Came to town that Mr Weaver[s] Commission is Not passed and that My Lord has wrott to Mr Hangerford that it is not by his means that he is promotted to that station. My Lords Interest Continues very great at home, and he will be too powerfull against all his Enemys. Cap[tai]n Kidd is not Likely to goe home this winter the Man of Warr Not yet arrived, it is reported that Cap[tai]n Kid [sic] sent his maid to Cap[tai]n Clarke to receive some gold from him for his subsistanse which he refused to give her Continues still obstinate and reported that he hath above 8000 [illegible] in gold of Kids, if that could be secured, it might safe you of yr bonds. I would have you very obsequious to my Lord, who is only able to serve you - and I doe beleeve willing. he is not well treated at Boston, and I believe weary of that plase - will be here early in the Spring. and then I hope you will be safed of all yr troubles - I am no stranger to the inconstancy of worldly things, Nor to the various humors of mankind therefor am allways provided to bear whatever changes that doe Come sinse it has been my fortune to be in the publick servise I allways aimed at the publick good and if my Endeavors have not been succesfull, I cannot help it. I shall never be disquieted with any turn of fortune for God by his providense Governs the world and it is by his favor that Kings reign and princes deliver Justice and they are the best Judges who are fittest for their service - I have had my time - so shall wish great satisfaction give way to any other , Sinse I am so ill rewarded for what is past I must Exspect [sic] little gaines for what is to Come. So have little Comfort in my publick station. you will have by other hands the News of the town. So I shall only Exhort you to patiense give my hearty salutes to yr Lady & beleeve that I am with great truth [illegible]
Your affectionat freind & ser[van]t
Ja[mes] Graham
[docket]
Manr of Livingston 30 Jan 1699/700 James Grahams Lettir from N Yorke
[address]
To The Honorable Robert Livingston Esquire of his Maj[es]tys Councill att his Mannor of Livingston Hall In County of Albany Present


See More
People:
Historical Era: Colonization and Settlement, 1585-1763
Subjects: DeathChildren and FamilyWomen's HistoryPrivateeringPiratesServantFinance
Sub Era: