Campbell, Duncan (fl. 1694-1701) to Robert Livingston re: the arrest of Captain Kidd
High-resolution images are available to schools and libraries via subscription to American History, 1493-1943. Check to see if your school or library already has a subscription. Or click here for more information. You may also order a pdf of the image from us here.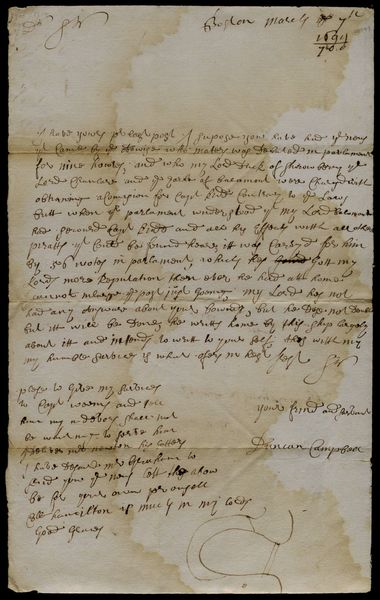 A high-resolution version of this object is available for registered users. LOG IN
Gilder Lehrman Collection #: GLC03107.00549 Author/Creator: Campbell, Duncan (fl. 1694-1701) Place Written: Boston, Massachusetts Type: Autograph letter signed Date: 1700/03/07 Pagination: 1p. + addr. +ff 31 x 19.3 cm
Campbell writes discussing the events in Parliament revolving around the arrested Captain Kidd. He mentions a nine hour debate and the Earl of Bellomont's being charged with "Obtaining a Comision for Capt Kidd Contrary to the Laws." However, being made to understand that it was Bellomont who had secured Kidd's arrest, Parliament allowed Bellomont's transgressions to be overlooked. Docketed on address leaf.
Duncan Campbell to Robert Livingston
Boston, Massachusetts, 7 March 1700.
Autograph letter signed, 1 page + address + docket + free frank.
Dr Sir Boston March ye 7th
1699
700
I have youres ye last post I supose you have had ye news yt Came by ye Advise-who-maters was Debated in parlament [sic] for nine houres, and who my Lord Duck [Duke] of Shrowberry ye Lord Chanl[ow] and ye Earle of Balomont were Chargd with obtaning a Comision for Capt Kidd Contrary to ye Laws butt when ye parlament understood yt My Lord Balomont had secourd Capt Kidd and rec his Effects with all other piratts yt could be found heare, itt was Carryd for him by 56 [v]otes in parlament, which hes [strikeout] Gott my Lord more Reputation than ever he had att home I cannot inlarge ye post just Goeng, My Lord hes not had any Answare about your bouds, but he Dose not Doubt but itt will be Done, he writts home by this ship largely about itt and intends to writt to your self; this with my my [sic] humble services is what ofers in [best] [jest] Sir
your frind and servant
Duncan Campbell
plese to give my services to Capt Weems and tell him my indevors shall not be wanting to serve him I Deliver Mr Newton his letters I have Desired Mr. G[raham] to send you ye mens lett this above be for your own perousell Coll hamilton is much in my lords Good Graces
[address]
To
the honable
Robert Livingston Esqr
free att Albanny
[docket]
Albany 26 of Mrh 1700
Dunkans Campbells Letter
from Boston