Graham, James (fl. 1679-1700) to Robert Livingston re: Captain Kidd's case before Parliament
High-resolution images are available to schools and libraries via subscription to American History, 1493-1943. Check to see if your school or library already has a subscription. Or click here for more information. You may also order a pdf of the image from us here.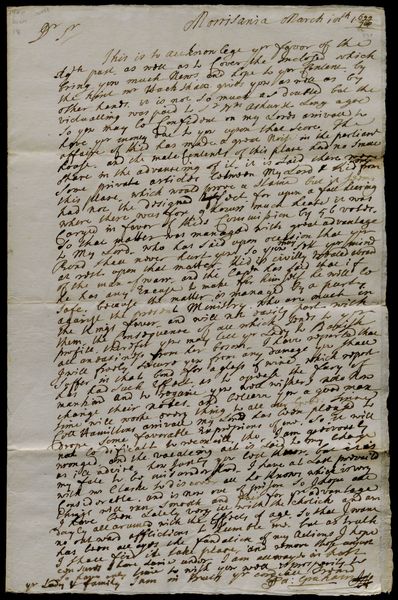 A high-resolution version of this object is available for registered users. LOG IN
Gilder Lehrman Collection #: GLC03107.00551 Author/Creator: Graham, James (fl. 1679-1700) Place Written: Morrisania, [?] Type: Autograph letter signed Date: 1700/03/18 Pagination: 1 p. + docket 30.7 x 20 cm
Graham writes to Livingston in a calming effort, stating "Banish all uneasiness from [your] bosom." Graham states that Kidd, although he would be tried, would not drag down the other investors in the Adventure Galley scheme, claiming that the factionalized Parliament would not destroy the reputations or fortunes of either Livingston or Bellomont.
James Graham to Robert Livingston
Morrisania, New York, 18 March 1700.
Autograph letter signed, 1 page + docket.
Dr Sr Morrisania, March 18th 1699
700
This is to accknowlege yr favor of the Rgth past, as well as to Cover the Inclosed which bring you much News and hope to yr Content by the hint Mr Hackshaw gives you as well as by other hands. it is not so much as doubted but the victualling was paid to Sr Wm Ashurk Long agoe so you may be Confident on my Lords arrivall to have yr money due to you upon that score. The affaire of Kid has made a great Noise in the parliamt house. and the malecontents of this plase had no small share in the advanseing of it. it is said there were some private articles between My Lord & Kid [inserted: come] from this plase, which would prove a shame but it seems had not the designed effect for upon a full hearing where there was for 9 hours much heate it was Carryid in favor of Kids Commission by 56 votes. So that matter was managed with great advantage to My Lord, who has said upon occasion that yr Bond shall never hurt you so you [inserted: may] sett yr mind at rest upon that matter. Kid is civilly treated aboard of the man of warr, and the Captn has said that if he has any Excuse to make for himself he will be safe because the matter is managed by a party against the present Ministry who are much in the Kings favor - and will not easily part with them - the Consequense of all which sends to yr profite. therefor you may tell yr Lady to Banish all uneasiness from her bosom - I have reported that I will freely secure you from any damage you shall suffer in that bond for a glass of wine which [report] has had such effect as to apease the fury of mankind and to regaine you well wishers who Now change their notes - and beleeve you a good man time will worke every thing to all our [illegible]. sinse Coll Hamiltons arrivall My Lord has been pleased to draw some favorable Expressions of me. So it will not be dificall to reconcile tho I am grievously wronged, and the vacateing act is Laid to my charge as i'll advise how justly you cost [them] but it is my fate to be misunderstood - I have at Last prevaild with Mr Clarke to discover all he knows which is very Considerable and is now out of prison so I hope all things will run smooth and fair for yr advantage I have been Lately very ill with the cholick and am dayly allarumed with the Effects of age, so that I want no outward afflictions to humble me. but as truth has been all ages the fondation of my actions I hope I shall find it take place and remove those unjust [illegible] I have [Laine] under I am allways in post so have only time to wish you well & prosperity to yr Lady & family I am in truth yr cordiall friend
Ja: Graham
[docket]
Alb 26 Mrt 1700
Jam: Graham Esqr
Lett: fr Morrisania