Whipple, William (1730-1785) to [John Langdon].
High-resolution images are available to schools and libraries via subscription to American History, 1493-1943. Check to see if your school or library already has a subscription. Or click here for more information. You may also order a pdf of the image from us here.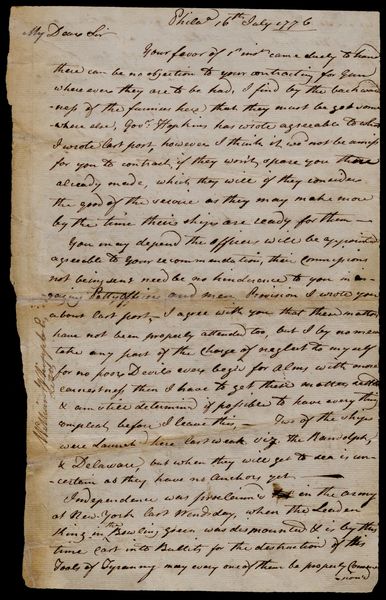 A high-resolution version of this object is available for registered users. LOG IN
Gilder Lehrman Collection #: GLC03186 Author/Creator: Whipple, William (1730-1785) Place Written: Philadelphia, Pennsylvania Type: Autograph letter signed Date: 16 July 1776 Pagination: 2 p. ; 32 x 20.6 cm
Discusses contracting for guns, military preparations, and the Declaration of Independence. Remarks that independence was proclaimed in the army at New York last Wednesday and a statue of King George III was taken down and cast into bullets, "... for the destruction of this tools of tyranny. May every one of them be properly commissioned." Informs that in a few days 20,000 men will be assembled at New Jersey in addition to the army of York. Writes the Declaration "has had a glorious affect has made these Colonies all alive, all the colonies forming governments. . ."
Whipple was a member of the Continental Congress from New Hampshire 1776-1779 and a signer of the Declaration of Independence.
Philaa 16th July 1776
My Dear Sir
Your favor of 1st inst came duly to hand there can be no objection to your contracting for Guns where ever they are to be had, I find by the backwardness of the surmises here that they must be got somewhere else, Govr: Hopkins has wrote agreeable to what I wrote last post, however I think it wod not be amiss for you to contract, if they won't spare you those already made, which they will if they consider the good of the service as they may make more by the time their ships are ready for them-
You may depend the officers will be appointed agreeable to your recommendation, their commissions not being sent need by no hinderance to you in engaging Petty Officers and men. Provision I wrote you about last post, I agree with you that these matters have not been properly attend too, but I by no means take any part of the charge of neglect to myself for no poor Devils ever beg'd for alms with more earnestness then I have to get these matters settled & am still determined if possible to have everything compleat before I leave this. - Two of the ships were Launchd here last week, viz, the Randolph, & Delaware, but when they will get to sea is uncertain as they have no anchors yet -
Independence was proclaim'd [strikeout] in the army at New-York last Wendsday, when the Leaden
King in [inserted: the] Bowling Green was dismounted & is by this time cast into Bullets for the destruction of this Tools of Tyranny may every one of them be properly commission'd
[2] We are dayly in expectation of some grand Military opperations at New-York, the Militia are all marching from this Colony, the associators all mostly gone from this City. Col: Dickerson Cadwaleder &c all the head of these Regiments, no doubt in a very few days 20,000
men [inserted: if not more] will be embodied at New-Jersey besides the army at York, this Declaration has had a glorious effect has made these colonies all alive, all the Colonies forming Governments as you'll see by the papers-
I Expect there will be some interruption in the communication but hope it won't last long.
in very Great haste Yours,
Wm. Whipple
please to send the enclosed
paper to the north end -
I have sent the play you mention
to Mrs. Brachet
[docket]
William Whipple Esq
Letts