Stuyvesant, Peter (1592-1672) [Commission of Captain Frederick de Coninck and Captain Lieutenant Brian Nuton for operations in Westchester] [in Dutch]
High-resolution images are available to schools and libraries via subscription to American History, 1493-1943. Check to see if your school or library already has a subscription. Or click here for more information. You may also order a pdf of the image from us here.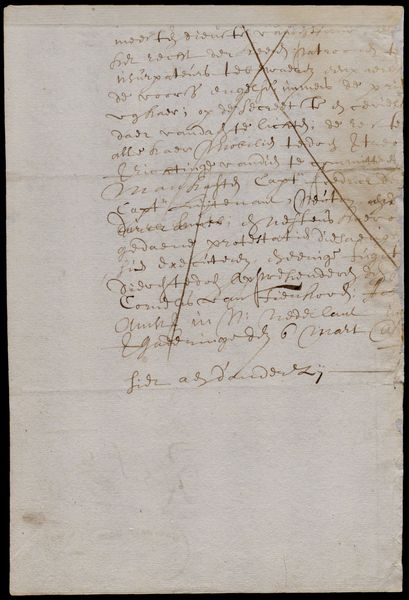 A high-resolution version of this object is available for registered users. LOG IN
Gilder Lehrman Collection #: GLC03699 Author/Creator: Stuyvesant, Peter (1592-1672) Place Written: New York, New York Type: Manuscript document signed Date: 6 March 1656 Pagination: 2 p. ; 22.6 x 15 cm.
Summary of Content: Cosigned by Nicasius de Sille, First Counsellor of New Netherland Jan La Montagne, and Secretary of New Netherland Cornelis Van Tienhoven. Details a secret mission to the English town of Westchester to seize criminals, banish the other inhabitants, and burn the town, except for such dwellings that can be used to house troops and those who will care for livestock. Beginning of document is missing. Second page is a draft of page one and is struck. Written from New Amsterdam.
Background Information: Stuyvesant was a Dutch colonial administrator and the last Dutch governor (1646–1664) of New Netherland.
La Montagne was one of the leaders of the settlement of Haarlem, on the Island of ...Manhattan. He was a voorleser (a foresinger, who led the singing and read the Bible in church) and school-master. De Sillè wrote poetry.
Van Tienhoven arrived in New Amsterdam in 1633 as a West India Company accountant. In 1651 he was promoted to receiver general of the Company's revenues and domains and in the following year Stuyvesant made him Schout-Fiscaal (sheriff and attorney general) of New Amsterdam.
See More
People: Stuyvesant, Peter, 1592-1672
Sillè, Nicasius de, fl. 1653-1674
La Montagne, Jan, 1632-1672
Van Tienhoven, Cornelis Luycasz, 1601-1656
Nuton, Brian, fl. 1656
Coninck, Frederic de, fl. 1656

Historical Era: Colonization and Settlement, 1585-1763
Subjects: Global History and US Foreign PolicyGlobal History and US Foreign PolicyMilitary HistoryBoundary or Property DisputePrisonerRefugeesWartime Pillaging and DestructionAgriculture and Animal Husbandry
Sub Era: