Monroe, James (1758-1831) to John Francis Mercer
High-resolution images are available to schools and libraries via subscription to American History, 1493-1943. Check to see if your school or library already has a subscription. Or click here for more information. You may also order a pdf of the image from us here.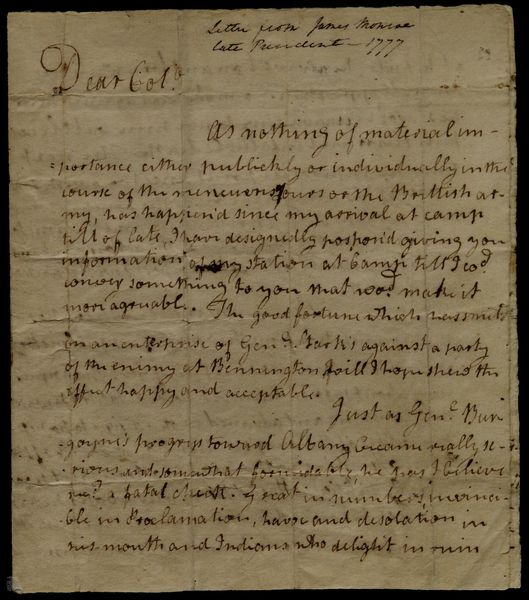 A high-resolution version of this object is available for registered users. LOG IN
Gilder Lehrman Collection #: GLC07111 Author/Creator: Monroe, James (1758-1831) Place Written: Dehey? Type: Autograph letter signed Date: 25 August 1777 Pagination: 4 p. : 18.3 x 15.7 cm.
Written by Monroe as a major in William Alexander's (aka Lord Stirling) brigade of George Washington's army to Colonel Mercer, captain in the 3rd Virginia Regiment. Recipient is inferred from the third page of the letter where Monroe asks for information on his old regiment. Says he waited to write until something material occurred. Conveys news of General John Stark's victory over a detachment of German troops from General John Burgoyne's army at the Battle of Bennington. Stark led his New Hampshire militia against a German detachment that was seeking supplies for Burgoyne's bogged down army on its march to Albany. Says "Just as Genl. Burgoyne's progress toward Albany became really serious and somewhat formidable, he has, I believe, rec'd a fatal shock." With this check, Monroe thinks Burgoyne will display much less hubris in the future. Transcribes part of the general orders that describe the engagement. The orders provide a breakdown in prisoners and casualties of Burgoyne's detachment, which numbered close to 800. Says that Washington marched his army through Philadelphia yesterday and that the line was six or seven miles long. Says he lives "agreeably" with his new commander Lord Stirling, under whom he was serving as aide-de-camp. Provides updates on British activity around New York. Says Washington is allowing him to remain working under Stirling until Congress works out controversy over ranks, but that Washington has few positions to hand out.
…Just as Genl. Burgoyne's progress toward Albany became really serious and somewhat formidable, he has I believe recd. a fatal check. Great in numbers, invincible in Proclamation, havoc and desolation in his mouth and Indians who delight in ruin [2] at his side … The next time he appears in print since We overthrow a part of his army have recd., The pompous Genl. will perhaps be less presuming and declamatory … [3] Yesterday the Genl. [Washington] march'd [illegible strikeout] his army thro' Phila. in all the Pomp of military parade. The line extended six or seven miles … I live very agreeably with Lord Stirling. He unfortunetly fell from his horse yesterday and hurt him [4] self exceedingly - A report prevaild yesterday that Fort Stanwick was not longer invested. Another also Wh. was positively affirm'd by a gentleman of reputed honor that one Colo. Morgan of militia, had made a descent on Staten Island.