Jackson, Andrew (1767-1845) to John Reid
High-resolution images are available to schools and libraries via subscription to American History, 1493-1943. Check to see if your school or library already has a subscription. Or click here for more information. You may also order a pdf of the image from us here.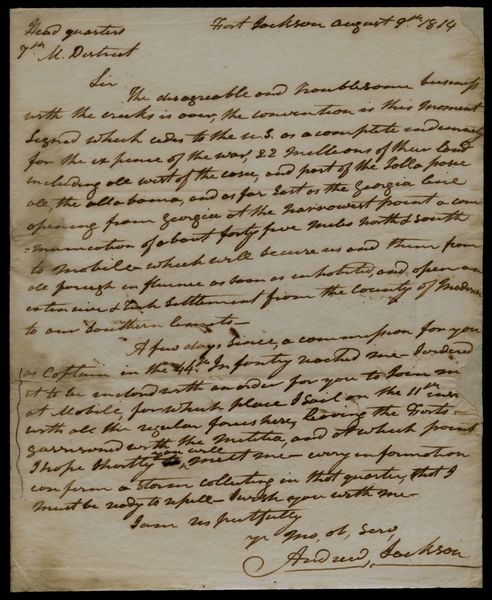 A high-resolution version of this object is available for registered users. LOG IN
Gilder Lehrman Collection #: GLC07372 Author/Creator: Jackson, Andrew (1767-1845) Place Written: Wetumpka, Alabama Type: Autograph letter signed Date: 9 August 1814 Pagination: 1 p. : address : docket ; 25.2 x 20.5 cm
Summary of Content: Writes to Major Reid to inform him of the signing of the Treaty of Fort Jackson with Creek Indians. Describes the punitive measures of the agreement, which forced the Creek to cede twenty-two million acres of land. Discusses Reid's commission as a captain in the 44th Infantry and plans to meet. Written at Fort Jackson.
Background Information: Reid, John was an aide-de-camp to Andrew Jackson during Creek War. He began a biography of Jackson which was completed after his death by John Henry Eaton.
Full Transcript: Head quarters Fort Jackson August 9th. 1814
7th. M. District
Sir
The disagreeable and troublesome business with the creeks is over, the convention is this moment signed which cedes to the ...U.S. as a complete indemnity for the expense of the war, 22 millions of their land including all west of the co[o]sa [river], and part of the Tallapo[o]sa [river] all, the Allabama, and as far East as the Georgia line opening from Georgia at the narrowest point a communication of about forty five miles North & South to Mobile - which will secure us and them from all foreign influence as soon as inhabited, and open an extensive & [rich] settlement from the County of Madison to our Southern limits -
A few days since, a commission for you as Captain in the 44th. Infantry reached me - I ordered it to be enclosed with an order for you to join me at Mobile, for which place I sail on the 11th ins[text loss: t] with all the regular forces here, leaving the Forts - garrisoned with
the militia, and at which point I hope shortly [struck: to] [inserted: you will] meet me - every information confirm a storm collecting in that quarter, that I must be ready to repell - I wish you with me -
I am respectfully
yr. mo, ob, Serv,
Andrew, Jackson
[address leaf]
8
Major John Reid
}Franklin Williamson
Express - }County-
}State of Tennessee
[docket]
Genl. Jackson
9th. Aug. 1814
See More
People: Jackson, Andrew, 1767-1845
Reid, John, 1784-1816

Historical Era: National Expansion and Reform, 1815-1860
Subjects: PresidentMilitary HistoryTreatyAmerican Indian HistoryWestward ExpansionFrontiers and ExplorationLand Transaction
Sub Era: Age of Jackson