Washington, George (1732-1799) to the Officer commanding the New Jersey Brigade
High-resolution images are available to schools and libraries via subscription to American History, 1493-1943. Check to see if your school or library already has a subscription. Or click here for more information. You may also order a pdf of the image from us here.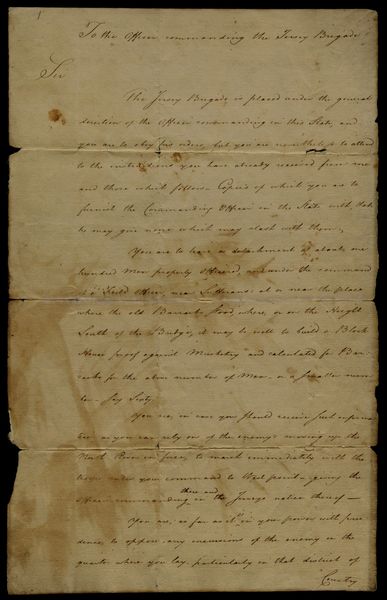 A high-resolution version of this object is available for registered users. LOG IN
Gilder Lehrman Collection #: GLC07881 Author/Creator: Washington, George (1732-1799) Place Written: Morristown, [New Jersey] Type: Manuscript letter signed Date: 1780/11/29 Pagination: 2 p. 33.6 x 21.5 cm
Summary of Content: Detailed advise about military strategy. In part: "You are, in case you should receive just information as you can rely on of the enemy's moving up the North River in force, to march immediately with the troops under your command to West Point - giving the Officer commanding there and in the Jerseys notice thereof..." Washington goes on to describe various scenarios and the appropriate military response to each.
Background Information: Signer of the U.S. Constitution.
Full Transcript: To the Officer commanding the Jersey Brigade

Sir
The Jersey Brigade is placed under the general direction of the Officer commanding in this State, and you are to obey his ...orders, but you are nevertheless to attend to the instructions you have already received from me and there which follow- copies of which you are to furnish the Commanding Officer in the State with, that he may give none which may clash with them;
You are to leave a detachment of about one hundred men properly Officered, [sic]and under the command of a Feild [sic] Officer, near Suferans: at or near the place where the old Barracks stood, where, or on the Height South of the Bridge, it may be well to build a Block House proof against Musketry and calculated for Barracks for the above number of men- or a smaller number- say sixty.
You are, in case you should received such information as you can rely on of the enemy's moving up the North River in force, to march immediately [sic] with the troops under, your command to West Point- giving the Officer commanding [inserted: there and] in the Jerseys notice thereof-
You are; as far as it [inserted: is] in your power with prudence, to oppose any incursions of the enemy in the quarter where you lay- particularly in that district of [2] Country between the [passaci] and North Rivers.
And you are to afford when it is required, or when in your judgment it is necessary, escorts to the public property passing to and from the Army,
You are not under any pretence whatever, without leave from me, to Suffer a Regiment to be without a Feild [sic] Officer, or a Company without one Commissioned Officer at least-
Every Horse, public and private, that can possibly be dispensed with is to be Sent from Camp as Soon as you get to your ground. The Officers who are intitled [sic] to keep Horses at public expence [sic] [inserted: in Camp] will be allowed the expence [sic] of keeping them at a distance.
It is expected that the Strictest discipline will be maintained by the troops under your command no injury offered to the persons or property of the Inhabitants.

Given at Morris Town this
29t: day of Novemr. 1780
G:o Washington

[docket]
G Wash_n's Nov. 29
1780See More
People: Washington, George, 1732-1799

Historical Era: American Revolution, 1763-1783
Subjects: PresidentRevolutionary WarRevolutionary War GeneralWest Point (US Military Academy)Continental ArmyGlobal History and CivicsForeign Affairs
Sub Era: The War for Independence