Washington, George (1732-1799) To: Thomas Nelson
High-resolution images are available to schools and libraries via subscription to American History, 1493-1943. Check to see if your school or library already has a subscription. Or click here for more information. You may also order a pdf of the image from us here.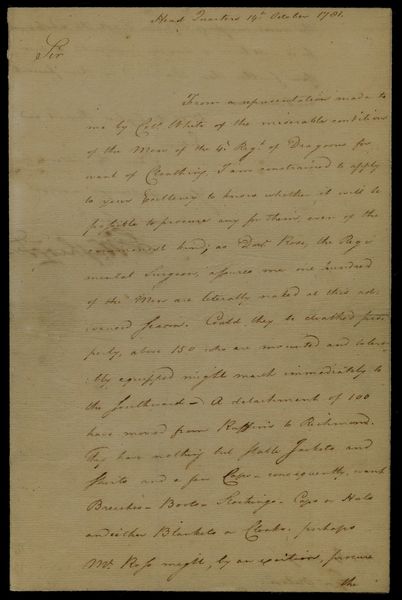 A high-resolution version of this object is available for registered users. LOG IN
Gilder Lehrman Collection #: GLC07956 Author/Creator: Washington, George (1732-1799) Place Written: Headquarters Type: Letter signed Date: 1781/10/14 Pagination: 2 p.+address+docket. 30.2 x 19.5cm.
Summary of Content: Requesting clothes for troops-written 5 days before Cornwallis' surrender at Yorktown.
Background Information: Signer of the U.S. Constitution.
Full Transcript: Head Quarters 14th October 1781
Sir
From a representation made to me by Capt. White of the miserable condition of the Men of the 4th Regt. of Dragoons for want of ...Clothing, I am constrained to apply to your Excellency to know whether it will be impossible to procure any for then, even of the commonest kind; as [illegible] Rose, the Regimental Surgeon assures me one hundred of the Men are literally naked at this advanced Season. Could they be clothed properly about 150 who are mounted and tolerably equipped might march immediately to the Southward. A detachment of 100 have moved from Ruffins to Richmond. They have nothing but sable Jackets and Shirts and a few Caps. Consequently want Breeches, Boots, Stockings, Caps or Hats and either Blankets or Cloaks, perhaps Mr. Ross might, by an exertion procure the most necessary Articles, if not the whole; for it will be in a manner impossible to move them further than Richmond in their present condition.
With the highest Respect and Esteem
I have the honor to be
Your Excellency's [illegible]
And humble Ser
{signed} G. Washington

His Excellency
Gov. Nelson
{docket}
On public Service
His Excellency
Gov Nelson
at
G. Washington His Quarters


{upside down}
From Genl. Washington
October 15, 1781
copd


See More
People: Washington, George, 1732-1799
Nelson, Thomas, 1738-1789

Historical Era: American Revolution, 1763-1783
Subjects: PresidentRevolutionary WarRevolutionary War GeneralMilitary HistoryClothing and AccessoriesContinental ArmyMilitary Supplies
Sub Era: The War for Independence