Unknown Treaty Between the United States of America and the Chiefs, Headmen, and Warriors, of the Pottawatamie Indians; Mota, a Pottawatamie Chief, and his Band; Comoza, a Pottawatamie Chief, and his Band; and Muck Rose, a Pottawatamie Chief, and his Band
High-resolution images are available to schools and libraries via subscription to American History, 1493-1943. Check to see if your school or library already has a subscription. Or click here for more information. You may also order a pdf of the image from us here.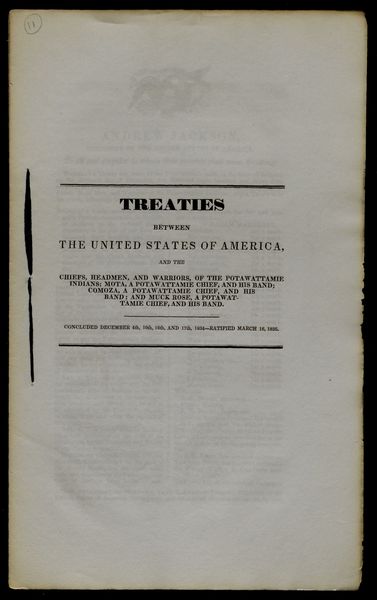 A high-resolution version of this object is available for registered users. LOG IN
Gilder Lehrman Collection #: GLC08055.30 Author/Creator: Unknown Place Written: Washington, D.C. Type: Pamphlet Date: 16 March 1835 Pagination: 7 p. ; 32.5 x 19.5 cm.
Summary of Content: Concerns the cession of Pottawatamie reservation land in Indiana and the remuneration they will receive. Authorized by President Andrew Jackson. Treaty arranged by William Marshall, Commissioner on the part of the United States, and the leaders of the Pottawatamie on 4, 10, 16, and 17 December 1834 (and ratified on 16 March 1835).
People: Jackson, Andrew, 1767-1845
Marshall, William, fl. 1834

Historical Era: National Expansion and Reform, 1815-1860
Subjects: American Indian HistoryTreatyGovernment and CivicsDiplomacyPresidentLand TransactionImmigration and MigrationRefugees
Sub Era: Age of Jackson