Speech in favor of the Twelfth Amendment, 1803
A primary source by Timothy Pickering
View this item in the Collection.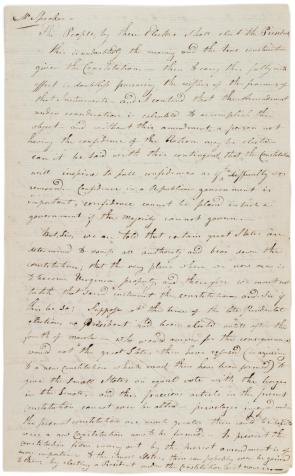 Until 1804, American presidents were elected under a system established in the US Constitution in which each member of the Electoral College voted for two presidential candidates. The candidate who received the most votes became president; the candidate with the second-most votes became vice president.
The flaws of this system were exposed by the elections of 1796 and 1800. In 1796, Federalist candidate John Adams was elected president. Adams' fellow Federalist candidate, Thomas Pinckney, however, was not the runner up; Democratic-Republican Thomas Jefferson earned the second-most votes, making him vice president to an opposing political party. In 1800, another problem arose when Adams and Jefferson faced off for the presidency again. The Republicans planned to elect Jefferson president and Aaron Burr vice president. Instead, Jefferson and Burr received the same number of votes, sending the tie to be decided by the Federalist-controlled House of Representatives. Jefferson was ultimately elected.
By 1803, Congress decided to remedy those flaws with a Constitutional amendment. In this speech Massachusetts Senator Timothy Pickering urged his colleagues to support the Twelfth Amendment, reforming the Electoral College and providing new guidelines for the election of the president. Referring to the election of 1800, Pickering asked, "Suppose at the time of the late President election, no President had been elected until after the fourth of March–who would answer for the consequences?"
Pickering noted that the framers had expected amendments to be added to the Constitution and that "it is a well known fact that the amendments already incorporated into the constitution have greatly increased its friends." He argued that the Twelfth Amendment would help realize the original intent of the framers and give the Constitution "Stability and duration."
Congress passed the Twelfth Amendment in December 1803, and it was ratified by the states in 1804.
A full transcript
is available.
Excerpt
Suppose at the time of the late Presidential election, no President had been elected until after the fourth of March- who would answer for the consequences? Would not the great States then have refused (in agreeing to a new Constitution which must then have been formed) to give the small States an equal vote with the larger in the Senate,- and this precious article in the present constitution cannot ever be altered- privelages enjoyid under the present constitution are much greater than could be expected were a new Constitution now to be formed,- to prevent the Constitution from running out by the present amendment is of more importance to the Small States, than can possibly ever be gained to them by electing a President under the Constitution as it now is.- I believe, Sir we ought not to calculate to turn, or have a wish to the election of a President, in any other way than by the Electors, for without this popular privelage the constitution would not have been adopted- again four small States which send but Eight members to the House of representatives have a right to Sixteen votes for President while a gr[lost text] State, having a right to send say from 18 to 25 members can add but two to her member in the choice of a President is not this advantage great enough for small States in that particular, under such an institution. . . .
Under an impression that the proposed amendment if adopted will give Stability and duration to the Constitution I shall give it my hearty support-
Questions for Discussion
You are seeing this page because you are not currently logged into our website. If you would like to access this page and you are not logged in, please login or register for a gilderlehrman.org account, and then visit the link that brought you to this notice. Thanks!
Metadata
Make Gilder Lehrman your Home for History
---
Already have an account?
Please click here to login and access this page.
How to subscribe
Click here to get a free subscription if you are a K-12 educator or student, and here for more information on the Affiliate School Program, which provides even more benefits.
Otherwise, click here for information on a paid subscription for those who are not K-12 educators or students.
Make Gilder Lehrman your Home for History
---
Become an Affiliate School to have free access to the Gilder Lehrman site and all its features.
Click here to start your Affiliate School application today! You will have free access while your application is being processed.
Individual K-12 educators and students can also get a free subscription to the site by making a site account with a school-affiliated email address. Click here to do so now!
Make Gilder Lehrman your Home for History
---
Why Gilder Lehrman?
Your subscription grants you access to archives of rare historical documents, lectures by top historians, and a wealth of original historical material, while also helping to support history education in schools nationwide. Click here to see the kinds of historical resources to which you'll have access and here to read more about the Institute's educational programs.
Individual subscription: $25
Click here to sign up for an individual subscription to the Gilder Lehrman site.
Make Gilder Lehrman your Home for History
---
Upgrade your Account
We're sorry, but it looks as though you do not have access to the full Gilder Lehrman site.
All K-12 educators receive free subscriptions to the Gilder Lehrman site, and our Affiliate School members gain even more benefits!