June Book Breaks and History Books for the Beach
Posted by Gilder Lehrman Staff on Monday, 06/14/2021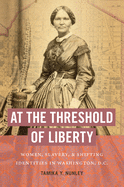 Since the summer of 2020, Gilder Lehrman Book Breaks has featured the most exciting history scholars in America discussing their books live with host William Roka followed by a Q&A with home audiences.
The summer of 2021 covers a diverse set of books that make for probing discussions on the founding of the country, its constructed myths, and its brutal realities.
On June 20, Matthew R. Costello discusses his book The Property of the Nation, which explores the deliberately constructed image of George Washington, shaped and reshaped over time. Costello traces this process through the story of Washington's tomb, highlighting the efforts of politicians, business owners, artists, and storytellers to define, influence, and profit from the memory of Washington at Mount Vernon.
Sunday June 20, 2:00 to 3:00 p.m. ET (11:00 a.m. to 12:00 p.m. PT). Register here.
On June 27, Tamika Nunley discusses her book At the Threshold of Liberty with guest host Nathan McAlister. Nunley's book reveals how nineteenth-century Black women in Washington DC—enslaved, fugitive, and free—imagined new identities and lives beyond the oppressive restrictions intended to prevent them from ever experiencing liberty, self-respect, and power. Nunley traces how Black women navigated social and legal proscriptions to develop their own ideas about liberty as they escaped from slavery, initiated freedom suits, created entrepreneurial economies, pursued education, and participated in political work.
Sunday June 27, 2:00 to 3:00 p.m. ET (11:00 a.m. to 12:00 p.m. PT). Register here.
THE DECLARATION OF INDEPENDENCE: A GLOBAL HISTORY
On July 4, David Armitage discusses The Declaration of Independence: A Global History, which examines the Declaration as a political, legal, and intellectual document, and is the first book to treat it entirely within a broad international framework. Armitage shows how the Declaration arose within a global moment in the late eighteenth century similar to our own, using over one hundred declarations of independence written since 1776 to show the influence and role the US Declaration has played in creating a world of states out of a world of empires.
Sunday July 4, 2:00 to 3:00 p.m. ET (11:00 a.m. to 12:00 p.m. PT). Register here.
BEACH-FRIENDLY AMERICAN HISTORY READING
Looking for a vacation read? Visit our Book Shop to explore our 2021 summer reading list and view titles by our Book Breaks guests, book prize winners, and more.