Every Sunday at 2 p.m. ET (11 a.m. PT)
---
Upcoming Book Breaks
October
October 2, 2022 - Barbara A. Perry discusses her book Jacqueline Kennedy: First Lady of the New Frontier.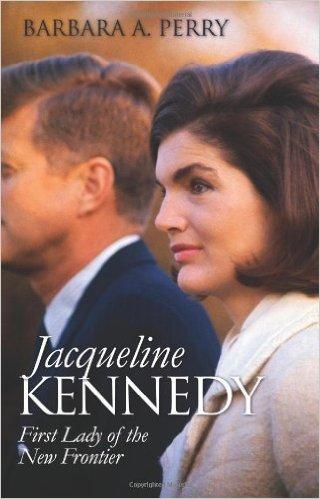 In a mere one thousand days, Jacqueline Bouvier Kennedy created an entrancing public persona that has remained intact for more than a half-century. Even now, long after her death in 1994, she remains a figure of enduring—and endearing—interest. Yet, while innumerable books have focused on the legends and gossip surrounding this charismatic figure, Barbara Perry's is the first to focus largely on Kennedys' White House years, portraying a First Lady far more complex and enigmatic than previously perceived.
Noting how Jackie's celebrity and devotion to privacy have for years precluded a more serious treatment, Perry's engaging and well-crafted story illuminates Kennedy's immeasurable impact on the institution of the First Lady. Perry vividly illustrates the complexities of Jacqueline Bouvier's marriage to John F. Kennedy and shows how she transformed herself from a reluctant political wife to an effective, confident presidential partner. Perry is especially illuminating in tracing the First Lady's mastery of political symbolism and imagery, along with her use of television and state entertainment to disseminate her work to a global audience.
By offering the White House as a stage for the arts, Jackie also bolstered the president's Cold War efforts to portray the United States as the epitome of a free society. From redecorating the White House to championing Lafayette Square's preservation, to lending her name to fund-raising for the National Cultural Center, she had a profound impact on the nation's psyche and cultural life. Meanwhile, her fashionable clothes and glamorous hairdos stood in stark contrast to the dowdiness of her predecessors and the drab appearances of Communist leaders' spouses.
Never before or since have a First Lady (and her husband) sparkled with so much hope and vigor on the stage of American public life. Perry's deft narrative captures all of that and more, even as it also insightfully depicts Jackie's struggles to preserve her own identity amid the pressures of an institution she changed forever.
Grounded on the author's painstaking research into previously overlooked or unavailable archives, at the Kennedy Library and elsewhere, as well as interviews with Jacqueline Kennedy's close associates, Perry's work expands and enriches our understanding of a remarkable American woman.
Barbara A. Perry is the Gerald L. Baliles Professor and director of presidential studies at the University of Virginia's Miller Center, where she co-directs the Presidential Oral History Program. She has authored or edited sixteen books on presidents, First Ladies, the Kennedy family, the Supreme Court, and civil rights and civil liberties.
---
Coming Soon
October 9 - Richard White on The Republic for Which It Stands: The United States during Reconstruction and the Gilded Age, 1865-1896
October 16 - T.H. Breen on The Will of the People: The Revolutionary Birth of America
October 23 - Tamara Payne on The Dead Are Arising: The Life of Malcolm X
October 30 - Carrie Gibson on El Norte: The Epic and Forgotten Story of Hispanic North America
---
Student Question Submission Competition
Middle and high school students (age 13 and up), submit your questions for one of the historians being featured on Book Breaks! If your question is chosen, it will be announced live on the program and both you and your teacher will win a $50 gift certificate to the Gilder Lehrman Gift Shop. Your question can be about the book or the topic in general. Please, only one submission per program.
Submit your question here.
The deadline to submit a question for the upcoming Book Breaks is Thursday.
---
Book Breaks Archive
The Book Breaks archive contains over eighteen months of past programs from historians such as David Blight, Eric Foner, Annette Gordon-Reed, Peniel Joseph, Elizabeth Varon, and more. Still deciding whether to subscribe? You can watch David Blight's talk on Frederick Douglass: Prophet of Freedom below to help you make up your mind.