Every Sunday at 2 p.m. ET (11 a.m. PT)
---
Upcoming Book Breaks
October
October 1 - Jon Meacham on And There Was Light: Abraham Lincoln and the American Struggle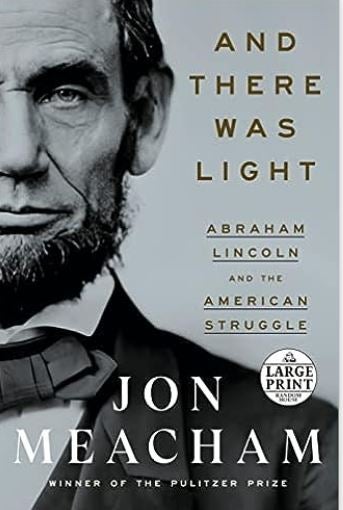 Join us in conversation with Jon Meacham, a 2023 Gilder Lehrman Lincoln Prize laureate. Abraham Lincoln's contemporary rivals often dismissed him as either calculating or unschooled, and grandiose eulogizing later created the opposite image, smoothing every edge. In And There Was Light, best-selling author Jon Meacham reclaims the real Lincoln underneath all of this projecting and memorializing. He shows how and why it took Lincoln a lifetime to become the person Americans needed in the White House.
Jon Meacham won the Pulitzer Prize for his 2009 biography of Andrew Jackson. He is a distinguished visiting professor at Vanderbilt University, where he holds the Carolyn T. and Robert M. Rogers Chair in American Presidency.
Purchase books for Book Breaks at the Gilder Lehrman Book Shop. We receive a commission from every purchase through the link provided. Thank you for supporting our programs and independent bookstores!
---
Coming Soon
October 8 - Drew Gilpin Faust on Necessary Trouble: Growing Up at Midcentury
October 15 - Frank J. Scaturro and Alvin S. Felzenberg on Grant at 200: Reconsidering the Life and Legacy of Ulysses S. Grant
---
History Scholar of the Week
Middle and high school students (age 13 and up), submit your questions for one of the historians being featured on Book Breaks! If your question is chosen, you will be named History Scholar of the Week, and it will be announced live on the program! In addition, both you and your teacher will win a $50 gift certificate to the Gilder Lehrman Gift Shop. Your question can be about the book or the topic in general. Please submit only one question per program.
Submit your question here.
The deadline to submit a question for the upcoming Book Breaks is Thursday.
---
Book Breaks Archive
The Book Breaks archive contains more than three years of past programs from historians such as David Blight, Eric Foner, Annette Gordon-Reed, Peniel Joseph, Elizabeth Varon, Ken Burns, and more. Still deciding whether to subscribe? You can watch Ada Ferrer's talk on Cuba: An American History (winner of the Pulitzer Prize) below to help you make up your mind.
View the full archive of past sessions
---
The Institute thanks Citizen Travelers, the nonpartisan civic engagement initiative of The Travelers Companies, Inc., for its support of Book Breaks.