Every Sunday at 2 p.m. ET (11 a.m. PT)
---
Upcoming Book Breaks
May
May 22, 2022 - Marcia Chatelain discusses her book Franchise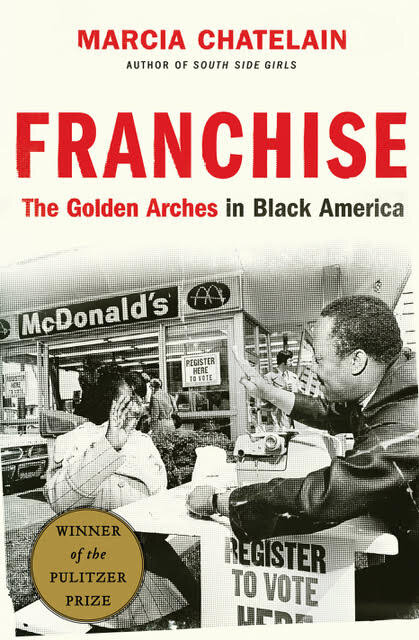 Just as The Color of Law provided a vital understanding of redlining and racial segregation, Marcia Chatelain's Franchise investigates the complex interrelationship between Black communities and America's largest, most popular fast-food chain. Taking us from the first McDonald's drive-in in San Bernardino to the franchise on Florissant Avenue in Ferguson, Missouri, in the summer of 2014, Chatelain shows how fast food is a source of both power—economic and political—and despair for African Americans. As she contends, fast food is, more than ever before, a key battlefield in the fight for racial justice.
Marcia Chatelain is a professor of history and African American studies at Georgetown University and is a leading public voice on the history of race, education, and food culture. The author of South Side Girls, Chatelain lives in Washington, DC.
---
Coming Soon
May 29 - Doris Kearns Goodwin on Leadership: In Turbulent Times
---
Student Question Submission Competition
Middle and high school students (age 13 and up), submit your questions for one of the historians being featured on Book Breaks! If your question is chosen, it will be announced live on the program and both you and your teacher will win a $50 gift certificate to the Gilder Lehrman Gift Shop. Your question can be about the book or the topic in general. Please, only one submission per program.
Submit your question here.
The deadline to submit a question for the upcoming Book Breaks is Thursday.
---
Book Breaks Archive
The Book Breaks archive contains over eighteen months of past programs from historians such as David Blight, Eric Foner, Annette Gordon-Reed, Peniel Joseph, Elizabeth Varon, and more. Still deciding whether to subscribe? You can watch David Blight's talk on Frederick Douglass: Prophet of Freedom below to help you make up your mind.