Every Sunday at 2 p.m. ET (11 a.m. PT)
---
Upcoming Book Breaks
July
July 3, 2022 - Elliott West discusses his book The Essential West: Collected Essays.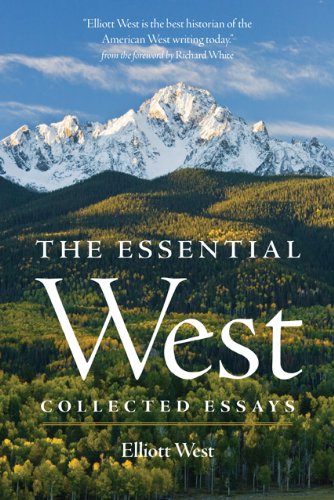 Scholars and enthusiasts of western American history have praised Elliott West as a distinguished historian and an accomplished writer, and this book proves them right on both counts. Capitalizing on West's wide array of interests, this collection of his essays touches on topics ranging from viruses and the telegraph to children, bison, and Larry McMurtry. Drawing from the past three centuries, West weaves the western story into that of the nation and the world beyond, from Kansas and Montana to Haiti, Africa, and the court of Louis XV.
Divided into three sections, the volume begins with conquest. West is not the first historian to write about Lewis and Clark, but he is the first to contrast their expedition with Mungo Park's contemporaneous journey in Africa. "The Lewis and Clark expedition," West begins, "is one of the most overrated events in American history—and one of the most revealing." The humor of this insightful essay is a chief characteristic of the whole book, which comprises ten chapters previously published in major journals and magazines—but revised for this edition—and four brand-new ones.
West is well known for his writings about frontier family life, especially the experiences of children at work and play. Fans of his earlier books on these subjects will not be disappointed. In a final section, he looks at the West of myth and imagination, in part to show that our fantasies about the West are worth studying precisely because they have been so at odds with the real West. In essays on buffalo, Jesse James, and the McMurtry novel Lonesome Dove, West directs his formidable powers to subjects that continue to shape our understanding—and often our misunderstanding—of the American West, past and present.
Elliott West, Alumni Distinguished Professor of History at the University of Arkansas, is a specialist in the social and environmental history of the American West. He has twice been chosen as his university's teacher of the year and, in 2009, he was one of three finalists for the Robert Foster Cherry Prize for the outstanding classroom teacher in the nation. He has written several books, including The Way to the West: Essays on the Central Plains (1995); The Contested Plains: Indians, Goldseekers and the Rush to Colorado (1998), winner of the Francis Parkman Prize and the OAH Ray Allen Billington Prize; and The Last Indian War: The Nez Perce Story (2009).
---
Coming Soon
July 10 - David Hackett Fischer on African Founders: How Enslaved People Expanded American Ideals
July 17 - Dorothy Wickenden on The Agitators: Three Friends Who Fought for Abolition and Women's Rights
July 24 - Susan Schulten on A History of America in 100 Maps
TBD - Doris Kearns Goodwin on Leadership: In Turbulent Times
---
Student Question Submission Competition
Middle and high school students (age 13 and up), submit your questions for one of the historians being featured on Book Breaks! If your question is chosen, it will be announced live on the program and both you and your teacher will win a $50 gift certificate to the Gilder Lehrman Gift Shop. Your question can be about the book or the topic in general. Please, only one submission per program.
Submit your question here.
The deadline to submit a question for the upcoming Book Breaks is Thursday.
---
Book Breaks Archive
The Book Breaks archive contains over eighteen months of past programs from historians such as David Blight, Eric Foner, Annette Gordon-Reed, Peniel Joseph, Elizabeth Varon, and more. Still deciding whether to subscribe? You can watch David Blight's talk on Frederick Douglass: Prophet of Freedom below to help you make up your mind.