Register Now for the Constitution Day Voting Rights Forum on September 15
Posted by Gilder Lehrman Staff on Monday, 09/11/2023
Join us Friday for the Gilder Lehrman Institute's Voting Rights Forum! Register here to livestream the forum from your home or school on September 15 at 2 pm ET.
The Voting Rights Forum will be held at Stuyvesant High School in New York City. The panelists—representing a wide range of expert perspective on American history and politics—will discuss the history and evolution of voting rights as well as contemporary issues concerning voting and federalism:
John Avlon, CNN Senior Political Analyst

Akhil Reed Amar, Sterling Professor of Law and Political Science, Yale University

Nicole Hemmer, Director of the Carolyn T. and Robert M. Rogers Center for the Study of the Presidency and Associate Professor of History, Vanderbilt University

The Hon. Myrna Pérez, United States Circuit Court Judge for the Second Circuit

Bertrall Ross, Justice Thurgood Marshall Distinguished Professor of Law and Director, Karsh Center for Law and Democracy, University of Virginia

Jeanette M. Senecal, Senior Director of Mission Impact, League of Women Voters
This forum is free and open to all—register here.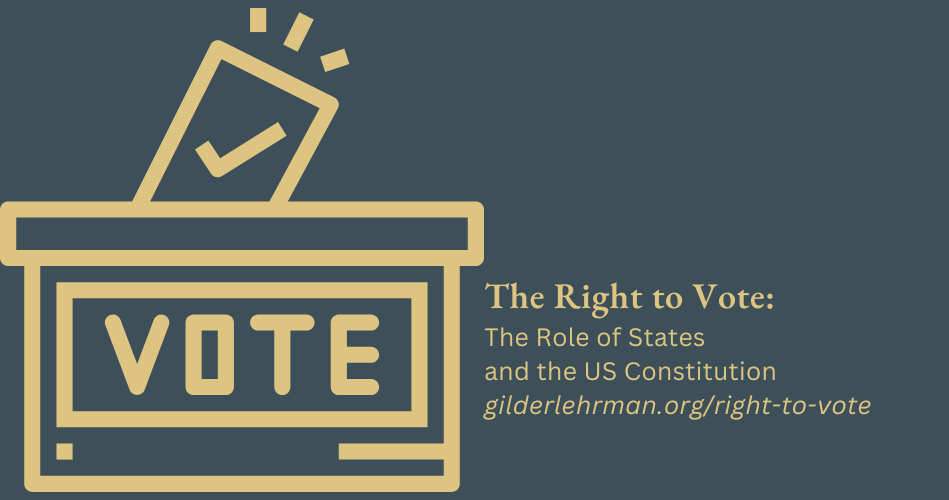 The Right to Vote: The Role of States and the US Constitution
The Gilder Lehrman Institute won the 2022 Leonore Annenberg Institute for Civics Award for its project "The Right to Vote: The Role of States and the US Constitution."
To fulfill the grant, the Gilder Lehrman Institute has created several new civics-oriented resources for students, teachers, and the general public: