Banks, Nathaniel Prentiss (1816-1894) to Ulysses S. Grant
High-resolution images are available to schools and libraries via subscription to American History, 1493-1943. Check to see if your school or library already has a subscription. Or click here for more information. You may also request a pdf of the image from us here.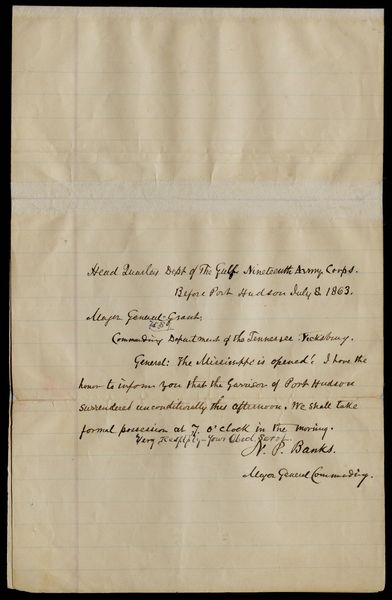 Summary of Content: Apparently a telegram. Major General Banks, commander of the Department of the Gulf, sends word to Major General Grant, commander of the Department of the Tennessee, to announce the capture of Port Hudson, Louisiana. This letter marks the advent of unfettered Union control of the Mississippi River. The Vicksburg garrison had surrendered to Grant on July 4, four days prior to this note.
Full Transcript: Head Quarters Dept of The Gulf Nineteenth Army Corps.
Before Port Hudson July 8, 1863.
Major General Grant;
U.S.A
Commanding Department of the Tennessee. Vicksburg.
General: The Mississippi is opened! ...I have the honor to inform you that the Garrison of Port Hudson surrendered unconditionally this afternoon. We shall take formal possession at 7. o'clock in the morning.
Very Resptfly - Your Obed. Servt.
N. P. Banks.
Major General Commading.See More
People: Banks, Nathaniel Prentiss, 1816-1894
Grant, Ulysses S. (Ulysses Simpson), 1822-1885

Historical Era: Civil War and Reconstruction, 1861-1877
Subjects: Civil WarMilitary HistoryUnion ForcesUnion GeneralConfederate States of AmericaBattleBattle of Port HudsonSurrender
Sub Era: The American Civil War