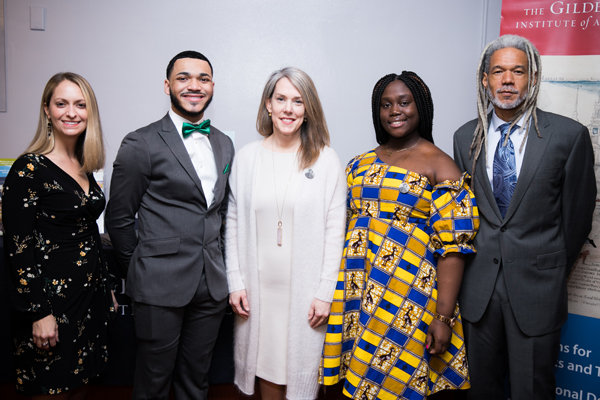 Created in 2014, the Gilder Lehrman Student Advisory Council (SAC) is a diverse group of high-achieving middle and high school students (grades 8–12) interested in history who apply to join this elite community of like-minded individuals. The SAC now has more than 200 members nationwide and internationally. Some students have served on the SAC for over four years and extended their relationship with the Institute beyond high school graduation.
Virtual meetings are held during the school year on the second Saturday of each month at 1 p.m. ET. During each meeting, students provide valuable feedback on the Institute's programs and materials, helping the Institute refine its outreach with the needs of young people in mind. Students are also educated about a critical document in American History from a curator in our Collection and hear presentations from guest speakers or fellow members of the SAC. Past Student Advisory Council meetings included special presenters such as Eric Foner (DeWitt Clinton Professor Emeritus of History, Columbia University), Rhodes Scholar Jasmine Brown on her new text "Twice as Hard: The Stories of Black Women Who Fought to Become Physicians," and General Michelle Johnson (U.S. Airforce).
Student Advisory Council members also often serve as speakers at the Institute's four book prizes, Board of Trustees meetings, and the annual Gala, among other special events. Students are also welcome to attend book talks with notable historians such as Annette Gordon-Reed and participate in virtual Q&As with the Broadway cast of Hamilton.
Student Advisory Council membership is also a notable achievement to include on a student's college application. SAC alumni have gone on to attend such colleges and universities as Barnard College, Brown University, Columbia University, Georgetown University, Harvard University, Middlebury College, Princeton University, Smith College, the University of California - Berkeley, the University of North Carolina - Chapel Hill, and Yale University.
Learn more about a few of our current members here. If you have any questions about the SAC, please email studentadvisorycouncil@gilderlehrman.org.