Painter, Heber (1841-1900) to Rebecca Frick
High-resolution images are available to schools and libraries via subscription to American History, 1493-1943. Check to see if your school or library already has a subscription. Or click here for more information. You may also order a pdf of the image from us here.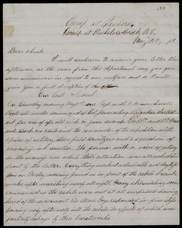 A high-resolution version of this object is available for registered users. LOG IN
Gilder Lehrman Collection #: GLC02016.033 Author/Creator: Painter, Heber (1841-1900) Place Written: New Bern, North Carolina Type: Autograph letter signed Date: 29 May 1863 Pagination: 5 p. ; 25 x 20 cm.
Summary of Content: Written to his aunt, Mrs. George A. Frick (Rebecca Frick). Reports on a long skirmish involving Union forces, 175 prisoners, and some equipment including a "splendid set of surgical instruments." Gives a detailed description of a surprise attack on rebel forces and news that Col. [John Richter] Jones had been killed. Writes that a general gloom came over the regiment upon seeing Jones' body coming up the road in a stretcher. High military honors were paid to Jones by General Foster and the town's flags were set at half mast for three days. He has written an account of the recent fight for publication.
Background Information: Before joining the service, Painter was a trained printer from Danville, Pennsylvania. He was mustered as a private into F Company of the 58th Pennsylvania infantry on 8 October 1861 and transferred ...to I Company on 1 March 1862. While in I Company, he was promoted to Sergeant and eventually mustered out on 21 January 1866 as First Lieutenant. Painter also held a post as Quartermaster's clerk, and performed freedman duties shortly after the war ended. See More
People: Painter, Heber, 1841-1900
Frick, Rebecca, fl. 1803-1862

Historical Era: Civil War and Reconstruction, 1861-1877
Subjects: Soldier's LetterMilitary HistoryCivil WarUnion ForcesUnion Soldier's LetterBattlePrisoner of WarHealth and MedicalDeathUnion GeneralAmerican FlagJournalism
Sub Era: The American Civil War