Holly, William H. (d. 1864) to Mary Ann Davis
High-resolution images are available to schools and libraries via subscription to American History, 1493-1943. Check to see if your school or library already has a subscription. Or click here for more information. You may also order a pdf of the image from us here.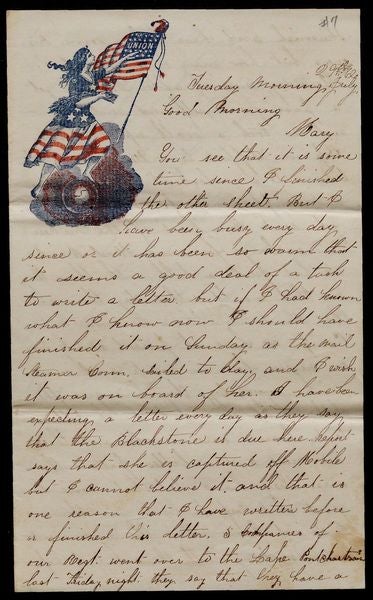 A high-resolution version of this object is available for registered users. LOG IN
Gilder Lehrman Collection #: GLC02165.07 Author/Creator: Holly, William H. (d. 1864) Place Written: New Orleans, Louisiana Type: Autograph letter signed Date: 29 July 1862 Pagination: 4 p. ; 20.5 x 12.4 cm.
Summary of Content: Written at Camp Parapet to a friend. First mentions a skirmish near Lake Pontchartrain. Visits a nearby plantation, visiting its sugar house, and conversing with former enslaved people who say they would rather be there than in the camp. Describes the situation of the Blacks in the camp and describes them as "independent and saucy." Talks of a funeral for two uncommisioned officers and a march through mud, then a Maine regiment that loses one or two men a day to disease.
Background Information: William H. Holly was mustered into the "E" Co. CT 12th Infantry on 11/19/1861. He died a prisoner of war on 12/11/1864 at Salisbury, NC. N.B. Holly spells his name "Holley."
Full Transcript: [draft]
29th 62
Tuesday Morning July
Good Morning
Mary
You see that it is some time since I [finished] the other sheet. But I have been busy every day since or ...it has been so warm that it seems a good deal of a task to write a letter, but if I had known what I know now I should have finished it on Sunday, as the mail Steamer [Conn.] sailed to day, and I wish it was on board of her. I have been expecting a letter every day as they say that the Blackstone is due here report says that she is captured off Mobile but I cannot believe it, and that is one reason that I have written before or finished this letter. 5 Companies of our Regt. went over to the Lake Pontchartrain last Friday night, they say that they have a [2] Skirmish and have taken some Prisoners but how many I know not.
Yesterday morning after Drill I got a pass for myself and another man and we took a walk up to the [Lever] [struck: stop] we stopped to a Union man's Plantation took a look at his Sugar House and implements for making Sugar; got some Corn Bread of the Darkies in exchange for some Hard Bread. we had quite a talk with them they say that would rather stay there on the Plantation than to come into Camp. we have at present nearly [50 or 100] negroes here in camp and more comes every day, they have given them clothes like[struck: s] ours and much better tents, because ours are old, and theirs are new, and a better pattern than ours. they have detailed some Sergeants and Corporals for to [Drill] them. I do not known what the Government intends doing with them but I hope [3] that they will set them at work for they are so very independent and saucy.
I received your letter of the 28th containing Wms Photograph. I think that it resembles him very much. My health is very good and that of the Regt. is very good. we do not lose many men. Yesterday noncommissioned officers were Sun Struck over at the Lake and they were brought here to be buried. and last night our Co. and the other 2 companies had to attend the Funeral, we had a heavy Shower just before we wanted to start and it made [struck: them] it rather late [strikeout] before we got ready to Start and we [struck: march it] had a very hard time to march. Sometimes we would be in the water up to our knees, and then in the mud over our shoes and in this manner we had to march nearly a mile. and before we got back it was pitch dark. the Marine Regt. loses a great many men almost every day, [4] one or two die. it is raining again to day and it will be so muddy that we shall be able to move around. you said that you wanted me to write often. I will try to write as often and as long letters as possible but you must remember that we write our letter under great disadvantages as it is very, very Hot here all the time and we are sweating and it makes our letters look very bad then again we are occupied most of the time in our duties, we have to on Guard every other day, and then drill when we are off Guard. and with other things to numerous to mention our [line] is mostly occupied. and if my letters are not as interesting and written as neatly as they should be, you must pardon me and remember that we do not have the same materials and good writing desks to sit by to write You must give my respects to Wm when you write. and I hope that we both shall be kept from all harm and when we have done serving our Country we shall meet again. but I fear that it will be a long time before peace is declared. I do not think of any thing more to day and with much love I remain as ever your true friend and wellwisher. Wm Henry Holley
Co. E. 12th Ct.
New Orleans
LouSee More
People: Holly, William H., d. 1864

Historical Era: Civil War and Reconstruction, 1861-1877
Subjects: African American HistorySoldier's LetterCivil WarMilitary HistoryUnion ForcesUnion Soldier's LetterMilitary CampFreemenSlaveryAgriculture and Animal HusbandryContrabandsDeathDiseaseHealth and MedicalConfederate States of AmericaEnslaved people
Sub Era: The American Civil War