Troutbeck, John (fl. 1770-1784) to Henry Knox
High-resolution images are available to schools and libraries via subscription to American History, 1493-1943. Check to see if your school or library already has a subscription. Or click here for more information. You may also order a pdf of the image from us here.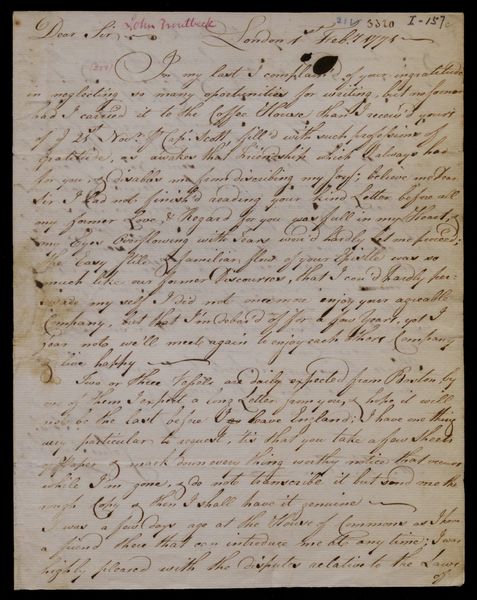 A high-resolution version of this object is available for registered users. LOG IN
Gilder Lehrman Collection #: GLC02437.00192 Author/Creator: Troutbeck, John (fl. 1770-1784) Place Written: London, England Type: Autograph letter signed Date: 7 February 1775 Pagination: 2p.+addr. 25.4 cm. x 19.7 cm.
Summary of Content: Reaffirms their friendship and hopes to see him in the future. Expects Knox to write to him before he leaves London, and after he leaves, to record everything noteworthy that occurs and send that to Troutbeck when he returns. Mentions visiting the House of Commons and hearing debates on the law of England. Praises the oratory of Edmund Burke, possibly in reference to his speech on "Conciliation with America." Has heard that Americans relish news of war, but asks how they will react to the coming news concerning peace under the "scandalous terms" that permit Spanish and French trade in English stocks. Mentions that there are many Americans in London looking for goods, but since so many will be shipped out, Troutbeck believes they will sell as cheaply in Boston as in London. Troutbeck was a surgeon.
Full Transcript: [draft]
Dear Sir,
In my last I complain'd of your ingratitude in neglecting so many oportunities for writing, but no sooner had I carried it to the Coffee House than ...I receiv'd yours of the 21st Novr. If Capt. Scott fill'd with such professions of gratitude, as awakes that Friendship which I always had for you, and disables me from discribing my Joy; believe me Dear Sir I had not finish'd reading your kind Letter before all my former Love, and Regard for you was full in my Heart, and my Eyes overflowing with Tears wou'd hardly let me proceed; The Easy stile of familiar flow of your Epistle was so much like our former Discourses, that I cou'd hardly persuade my self. I did not once more enjoy your agreable Company, but that I'm debas'd of for a few Years, yet I fear not we'll meet again to enjoy each others Company and live happy -
Two or three Vessels are daily expected from Boston by one of them I expect a long Letter from you, and hope it will not be the last before I leave England; I have one thing very particular to request, 'tis that you take a few Sheets of paper and mark down every thing worthy notice that occurs while I'm gone, and do note transcribe it but send me the rough Copy and then I shall have it genuine -
I was a few days ago at the House of Commons as I have a friend there that can introduce me at any time; I was highly pleased with the disputes relative to the Laws of [2] England, certainly Mr. Burk is as fine a Orator and as cleaver Man as ever Europe produced, and Messrs. Glin, Townsend, Sawbridge and pleased me so much that I stay'd till past 12 o'Clock at Night - In Yours you say the Information bought by Capt. Hall of War, was well relished by almost every Body, but how will they swallow the present News of Peace, is 'tis thought is on such scandlous terms, and to permit the French and Spanish Ambasidors, who have such early Inteligence to trade in our Stocks, 'tis said they have cleared near One Hundred Thousand pounds each, which had been much better in our Navy.
a vast Number of Americans are here at present all after Goods and I think from the quantity than 'tis said will be sent out, they will be sold as cheap in Boston as in London -
Please to give my Respects to all enquiring Friends and believe me to be with sincerity.
Your Friend and
Humle. Servt.
John Troutbeck
Mr. Hy. KnoxSee More
People: Troutbeck, John, fl. 1755-1784
Knox, Henry, 1750-1806
Burke, Edmund, 1729-1797

Historical Era: American Revolution, 1763-1783
Subjects: FriendshipGlobal History and US Foreign PolicyGlobal History and US Foreign PolicyGovernment and CivicsLawRevolutionary WarMilitary HistoryCommerceMerchants and TradeFinanceEconomics
Sub Era: Road to Revolution